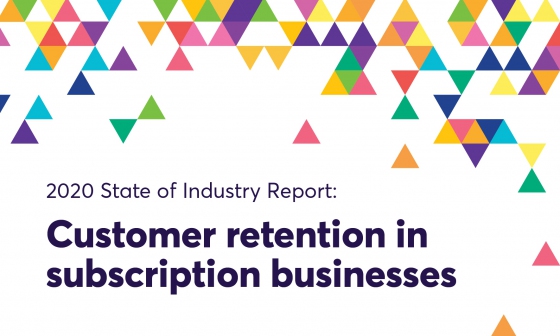 Today, we're sharing Brightback's second annual State of Industry Report. In this report, we've surveyed over 400 subscription businesses to better understand how the industry is approaching and prioritizing customer retention.
We found subscription companies have completed a shift in focus toward retention over acquisition, but still struggle to execute and engage their customers across teams and systems. The data underscores the differences in how companies that sell to consumers vs. businesses set their metrics and approach retention tactics.
While these differences exist, the following three statistics illustrate how the industry as a whole is prioritizing running a retention-minded business, one that's committed to driving more revenue while actively reducing customer churn.
You can download the full report here.
1. The times they are a-changin: 93% of subscription businesses view retention as being just as or more important than acquisition.
With aggressive growth plans, subscription startups have grown into billion-dollar businesses and entire industries have been transformed. But the acquire-at-all-costs mentality has, at times, done a disservice to the customer experience. Many organizations have operated with the belief that if a customer leaves, they're easily replaced. And high churn rates have been ignored in favor or focusing on the acquisition funnel.

What we're seeing now is subscription companies realizing that growth is stunted—and can be stopped entirely—if acquisition is not brought into balance with retention.

2. A whopping 96% of respondents say customers cancel for reasons that could be managed or fixed.
Subscription companies are highly optimistic about the possibility of saving more customers. And they believe they're highly capable of giving their customers what they're looking for, even when that customer is looking to cancel. Perhaps the highly saturated marketing channels and endless online noise have driven companies to want to rely less heavily on acquisition channels and double down on fixing their current customers problems. Obviously, companies are pained knowing that customers are slipping through the cracks for preventable reasons and are making retention—no wonder customer retention is a high priority.
3. Nearly half (43%) of subscription businesses save 6 to 25% of customers at the point of cancel.
The end isn't in the end when it comes to the customer journey. Subscription companies are making a play to retain, even when customers are walking out the door. The industry should take courage with 43% of companies retaining 6-25% of their subscribers at cancellation.
This success solidifies that cancellation isn't about finality for today's subscribers. A customer's desire to cancel as a signal that expectations aren't being met, but there's still time. The challenge of retaining customers at the point of cancel arises when a company must coordinate efforts across teams, gather data from multiple systems and determine the best channel to engage—all while not taking too long. Today's top tactics to retain customers include discounts, downgrades, skipping payment and personalizing offers based on the reason for cancellation.

See all the statistics and trends for today's subscription businesses in our 2020 State of Industry Report. Download the free report here.
You might also like...