Guy Marion
CEO & co-founder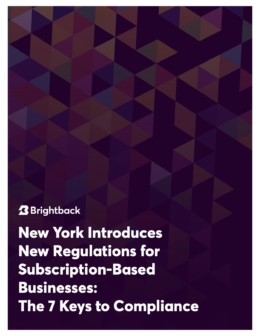 A New York state law just went into effect that imposes new regulation on subscription businesses. We've completed a review of the law and produced a guide to the 7 Key steps to comply*. A few highlights from the Guide:
Regulations in both New York and California are requiring online cancelation flows. If you are a business that allows for customers to purchase online, you must also allow them to cancel online. This simple requirement has impacts to your technical stack and business unit.
There are specific requirements around free-trial offerings and service packages. Any freemium or free trial based business has disclosure requirements up front.
Without testing and optimization, new regulations are poised to lead to increased churn among subscription businesses. We've found that online cancelation flows result in higher customer satisfaction, but can lead to increased churn if they aren't coupled with a robust testing motion around cancelation.
To combat increased churn, organization-wide changes are needed. The move to online cancellation can cause changes in Marketing, Product, Customer Service, and Executive Strategy.

To get the details on NY State law and recommendations, download the Guide Here.


* Note that the paper does not constitute legal advice or evaluation.

You might also like...