Guy Marion
CEO & co-founder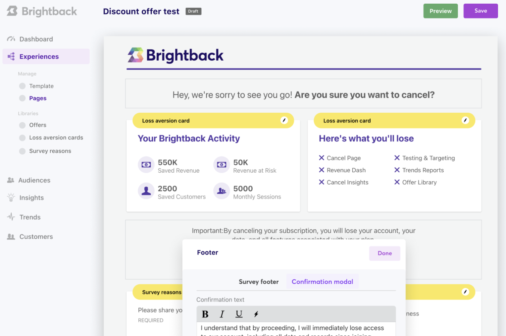 When we launched the Brightback product in April 2019, we did so with the vision of making at-scale customer retention, starting with a personalized and high performing cancel experience, an instant revenue driver, a source of customer intelligence, and a crucial competitive advantage.
Fast forward the clock to today, and we're proud to share that Brightback has successfully:
Improved retention performance to deflect more than 23% of cancellations today (system-wide, from <15% initially), while retaining millions of dollars of subscription revenue at a very high ROI (measured 850%+)
Processed more than 600k pre-cancel sessions each month, as well as 3.5m events and $31m of monthly recurring revenue churn, while saving ~100k subscribers from leaving
Helped leading digital and physical consumer services, as well as online / product-led growth (PLG) SaaS, retain 2x or more subscribers than they do without Brightback
Released our first self-service product (Brightback Essentials) - a simple and affordable way to try and buy online
Brightback's next act is about democratizing the retention methodology by making the product accessible and affordable for any subscription business, not just those already at scale.
This represents incredible work by Brightback's talented engineers and team guided by vast amounts of feedback from our amazing customers. A huge thank you to both, without whom none of this would be possible.

Caption: Brightback now processes over 3.5m events (red line) and 600k pre-cancel sessions (blue line) each month.

What are we announcing today?
Today, we are announcing the beta availability of Brightback Essentials - our new, slimmed down Brightback Plan that offers a simple, affordable approach to getting started with churn deflection and subscriber retention in a self-service manner. Request an account to be placed in queue and receive your invite asap.
How do we balance churn deflection and the user experience?
As avid online consumers ourselves, our product philosophy has always been that quitting a subscription online should be as easy as buying one. In fact, 80% of consumers are more likely to sign up for a subscription if they can also cancel online, while state (California, New York) and federal (Unsubscribe Act) regulation is now enforcing this. This means that a simple, compliant, yet high-performing cancel experience is now table stakes.
Retaining customers by deflecting cancellations without negatively impacting the user experience is obviously a balancing act. Since 2018 the Brightback team has run hundreds of thousands of retention test sessions and learned that there is a silver bullet when it comes to being great at retention. That is: take a systematic approach to testing and improving the relevancy of your flow.
Relevant offers, personalized design, loss aversion psychology, and proactive requests for feedback have an instant and a lasting impact. Some customers prefer discounts, others prefer credits. Some will pause because they're going on vacation, others would prefer to switch to a lesser (or longer-term) plan. Some are more likely to repurchase after pausing, others are happier canceling and reactivating monthly later.
By presenting a contextual experience containing the right offer(s), for the right reason, at the right time, we've seen merchants deflect more than 40% of cancels (current system-wide average = 23%), while greatly improving their customer feedback loops.
Brightback does so by:

providing a testing and targeting framework that enables you to target custom audiences with continuous multivariate tests, all without any need for a degree in statistics
providing and benchmarking six offer categories (discounts, pauses, extensions, switches, support/training offers, and requests for feedback)
no-code integrations into subscription billing services like Stripe, Recurly, and Chargebee that simplify new offer testing

leveraging rules and/or our machine learning models to optimize page and offer selection, while triggering downstream retention workflows across your IT stack
Now you can try for yourself, on your own time and terms
The new, slimmed down Brightback Essentials plan is now available - simply request an account and you will be placed in queue to get your invite asap.
Caption: the offer and reasons libraries, as well as rich branding capabilities, enable you to create and quick evolve targeted online retention flows.
The new Essentials Plan offers many key benefits, including:

learn how to create and personalize a dynamic, high-performing cancel experience without needing to get your engineers involved (post-initial installation)
get inspired by Brightback's Loss Aversion, Offer, and Survey Reason libraries
A/B test your cancel experience and offers as frequently as you like
use our pre-built integrations with Stripe, Recurly, or Chargebee to automate cancels and subscription updates, enrich your Brightback data from billing, and inject revenue attribution into your reporting
integrate your homegrown billing system via webhooks and/or URL redirects
gain actionable insights and performance reporting, including the Deflection Funnel, save and cancel trends, and offer and reason performance
export your data via Segment.com, CSVs, or real-time alerts and webhooks
enjoy knowledgeable support from our dedicated success team
flexible plans with pricing that grows as your cancel volumes increase, and the ability to try online and pay via credit card
While in Beta, you can expect fairly frequent updates and improvements in the user experience, although be assured that our reporting and data storage is highly iterated and secure.
Who is Brightback Essentials for?
This new Essentials plan is ideal for companies with less than 250 cancels/mo who need to quickly launch online cancellations, run simple A/B tests, and are using Stripe Billing, Recurly, or Chargebee to invoice subscribers. Brightback's Performance and Enterprise plans include more robust testing, targeting, and intelligence capabilities to drive high retention performance, as well as assisted onboarding, best practices guidance, and ongoing account management.

What is the pricing for the Brightback Essentials plan?
Brightback Essentials includes a free 30-day trial, then pricing starts from $250/mo for up to 50 monthly cancel sessions. A unique subscriber session is generated when a user clicks cancel or is linked to a Brightback page, triggering an automated cancel deflection workflow designed to save the customer within 30 days.
Log in to Brightback to upgrade to higher volume tiers of the Essentials plan to reduce your per-session rate, or request a demo of our Performance or Enterprise plans for high volume testing capabilities, improved targeting and intelligence, and fully supported onboarding and benchmark-based recommendations and best practices.
Caption: manage your Brightback plan and view usage from within Settings.
What happens if I run over the maximum number of sessions included in my plan?
If you exceed the number of monthly sessions included in your plan, you will be charged an extended session fee only for the exact number of sessions used, at your plan's base session rate. Upgrade at any time to reduce your base session rate. You can always see how many sessions you've generated on the Deflection Funnel on Dashboard, or in Billing.
Can I pay monthly via credit card?
Yes, you can pay monthly or annually upfront for a 20% discount. Monthly plans are available only via credit card, while annual plans qualify for payment via ACH or invoice.
Request a trial of the new Brightback Essentials plan here. Invites are sent on a first-come, first serve basis.
You might also like...