Carl Nightingale
Head of Product
We have been busy over the last couple of months and are excited to share an update packed with recent releases now available to Brightback customers. This release set highlights a major improvement to our billing integrations, as well as two new Trends Reports and our first outbound integration to Segment.com, that together enable you to self-optimize retention performance in Brightback.
This release also helps solidify our Deflection Funnel metrics in Brightback. We are launching improved deflection tracking that peels back visibility into the leading indicators of your Save Rate - including active and passive deflection rates - providing you with a more complete picture of how your Deflection Funnel is performing in Brightback.
Directly cancel subscriptions in Stripe, Recurly & Chargebee via integration
We have expanded our existing billing integrations with Stripe, Recurly & Chargebee to enable Brightback admins to directly cancel subscriptions via our integration, without needing to engage your engineering team to process cancels via webhooks or URLs.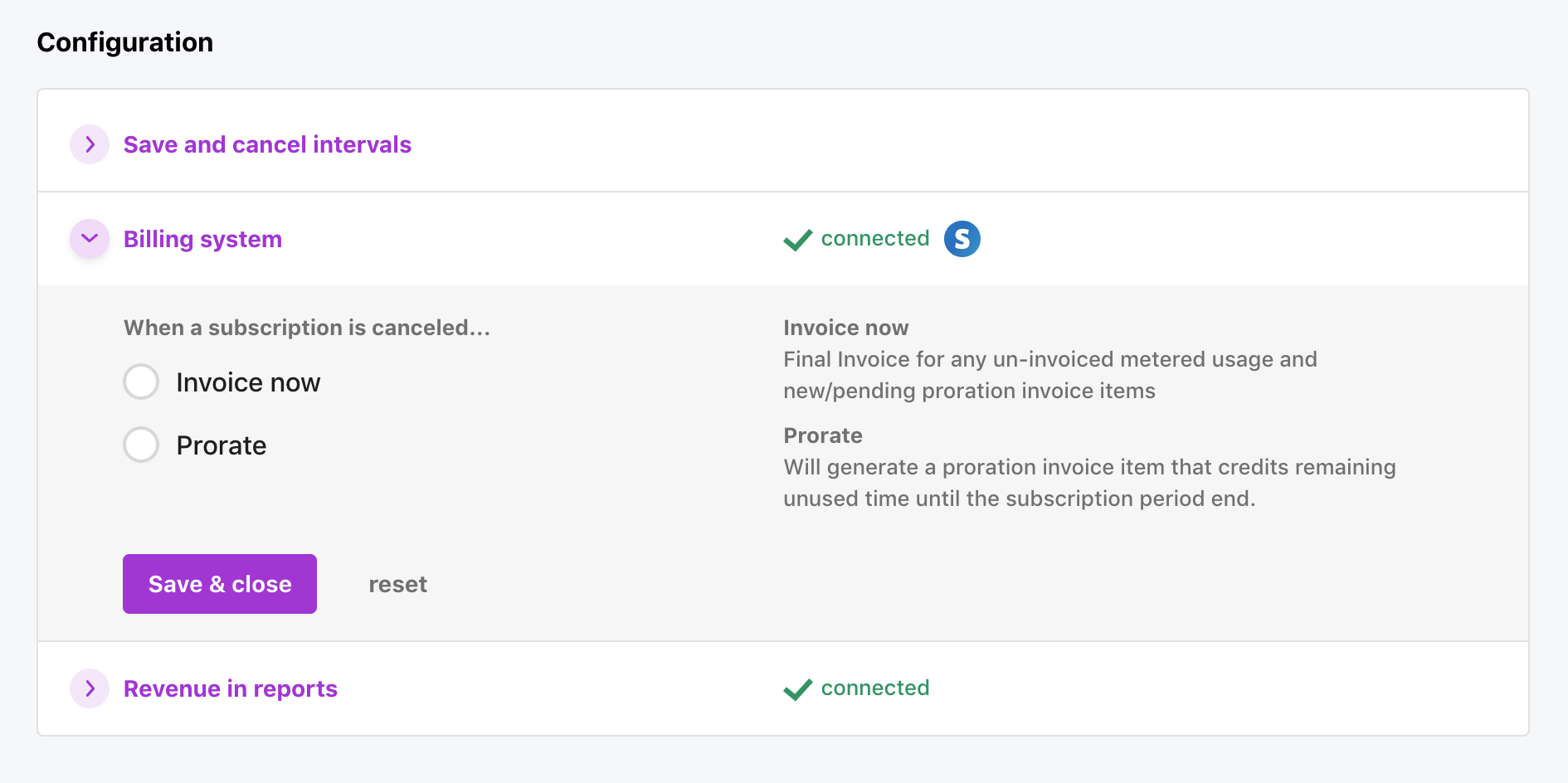 The Brightback admin can determine specific configurations supported by your billing system when enabling this feature, so that you can maintain continuity with how you manage subscriptions today. This new functionality saves hours of engineering work and offloads the task of managing cancel processing to Brightback. We will be working on adding Offer Management next to further reduce implementation effort and expand support for Stripe, Recurly & Chargebee customers. For more on Cancel Management, visit our help center article.
New Performance Trends Reports
By popular demand, we have released two new Trends reports: Save Performance and Deflection Trends. These two reports help you get visibility into your save and deflect rates along with the components of deflection: modal offer accept rates, loss aversion accept rates, and passive deflect rates.
Save Performance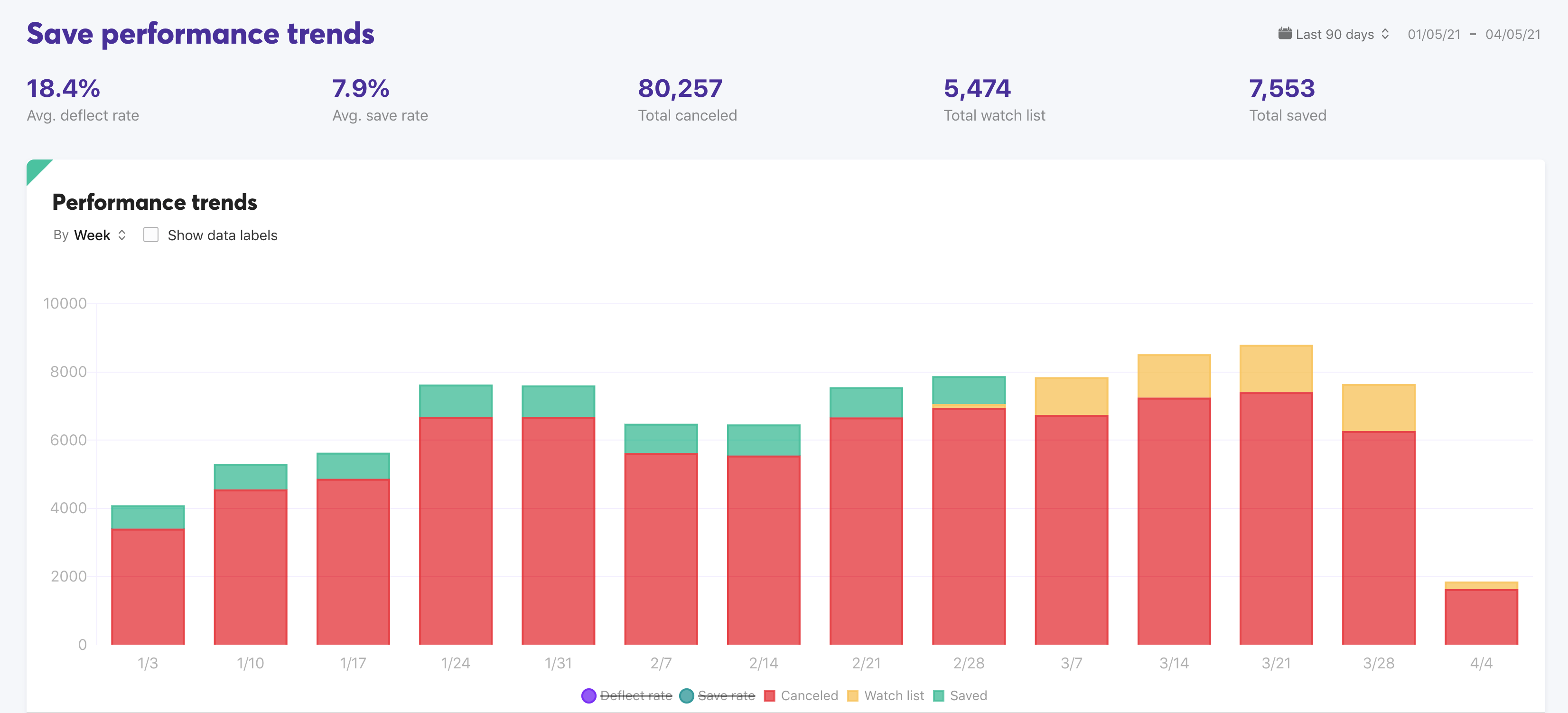 The Save performance trends report presents you with a complete view of your Deflection Funnel outcomes and the key rates associated with them. You can toggle the metrics that are shown by clicking on the legend labels to show different slices of the data. Adding rates to the chart for example will give you a view into how your performance has changed over time.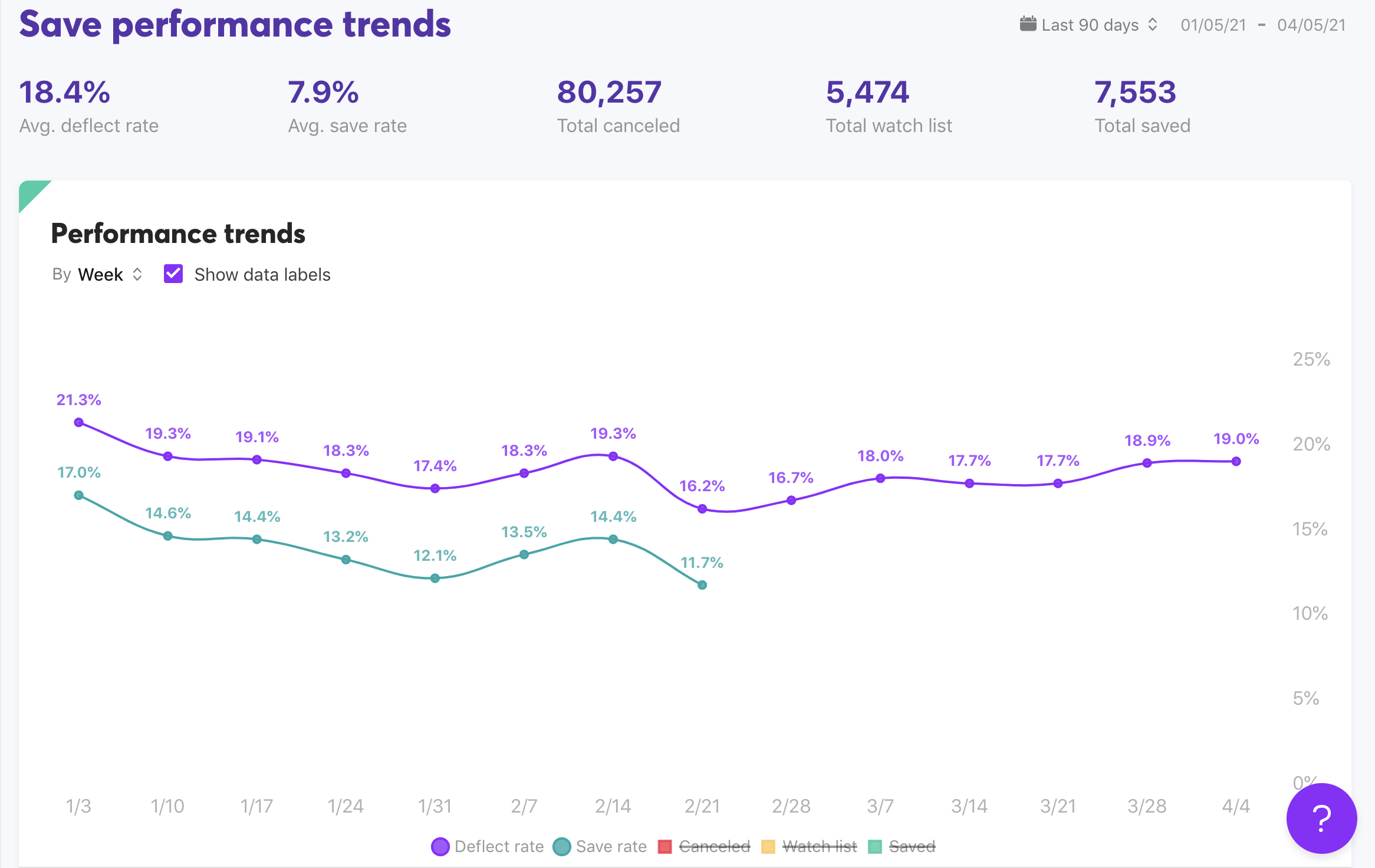 Here we also overlay the Deflect Rate and the Save Rate.

Deflect Rate: # of deflected customers / total unique sessions for a given time period
Save Rate: # of saved customers / total unique sessions for a given time period
These two rates give you better visibility into how effectively you are converting Watch List customers into Saved customers.
Deflection Trends
The Deflection trends report shows you how deflected customers are exiting the Cancel Experience. Here we show a breakdown of the different types of deflection events we track in Brightback:
Modal offer accept rate- the percentage of users who view a modal-based offer, typically after clicking a reason for canceling, then click to accept that offer
Loss aversion offer accept rate - the percentage of users who view an offer that is embedded in a Loss Aversion card at the top of the page, and click to accept that offer
Passive deflect rate - the percentage of users bounce from the cancel page, or click "Never mind", but do not actively deflect by clicking modal or loss aversion-based offers. Technically the deflect event fires 30 minutes after the session starts and the user has not canceled.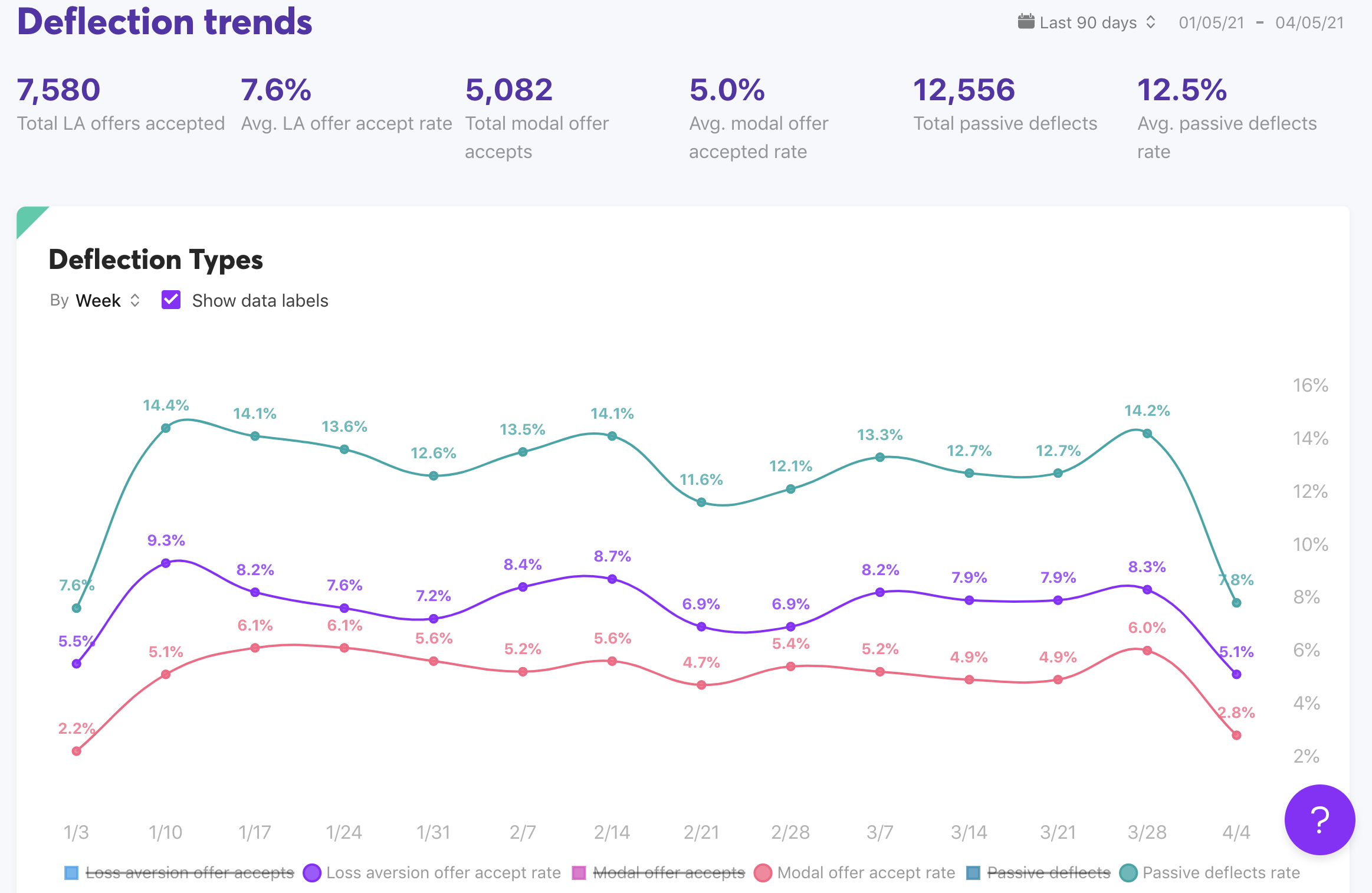 The Performance Trends report provides you critical visibility into both the volume and rates for each of these over time to see how your experiences are driving deflection during different time periods. Note: in the current release, data provides insight at the account-level only - the ability to drill down and filter by Experience (page) or Audience will be coming in future releases.
For more info on how to use the new trend reports, visit our help article.


New Alert Types in Brightback
We have expanded our existing alerting capabilities to add email alerts as an option for all alert types, as well as to add a few additional alerts so you can get more granularity into your Cancel Experience outcomes. These new alerts are now available in Brightback > Settings > Alerts & webhooks. For more on our new alert types, visit our help center article.
Pass Data to Brightback w/ Segment Analytics JS Snippet
We have also added the ability for Segment.com customers to pass data from Segment into Brightback for the first time (our existing Segment integration is outbound, where Brightback is set up as a Source in Segment and we pass a stream of raw, real-time events and payloads for use in 3rd party data and workflow applications).

For this new inbound use case, Brightback adds a snippet that will pull back the Segment traits stored in your customer's browser when they hit the cancel button. These traits can be mapped to Brightback in Settings > Setup > Field Mapping, then used to add dynamic fields (personalization) to your pages and alerts, or to define custom Audiences in Brightback. For more on how to add the Segment Analytics JS Snippet to your Brightback Install Code, visit our help center article.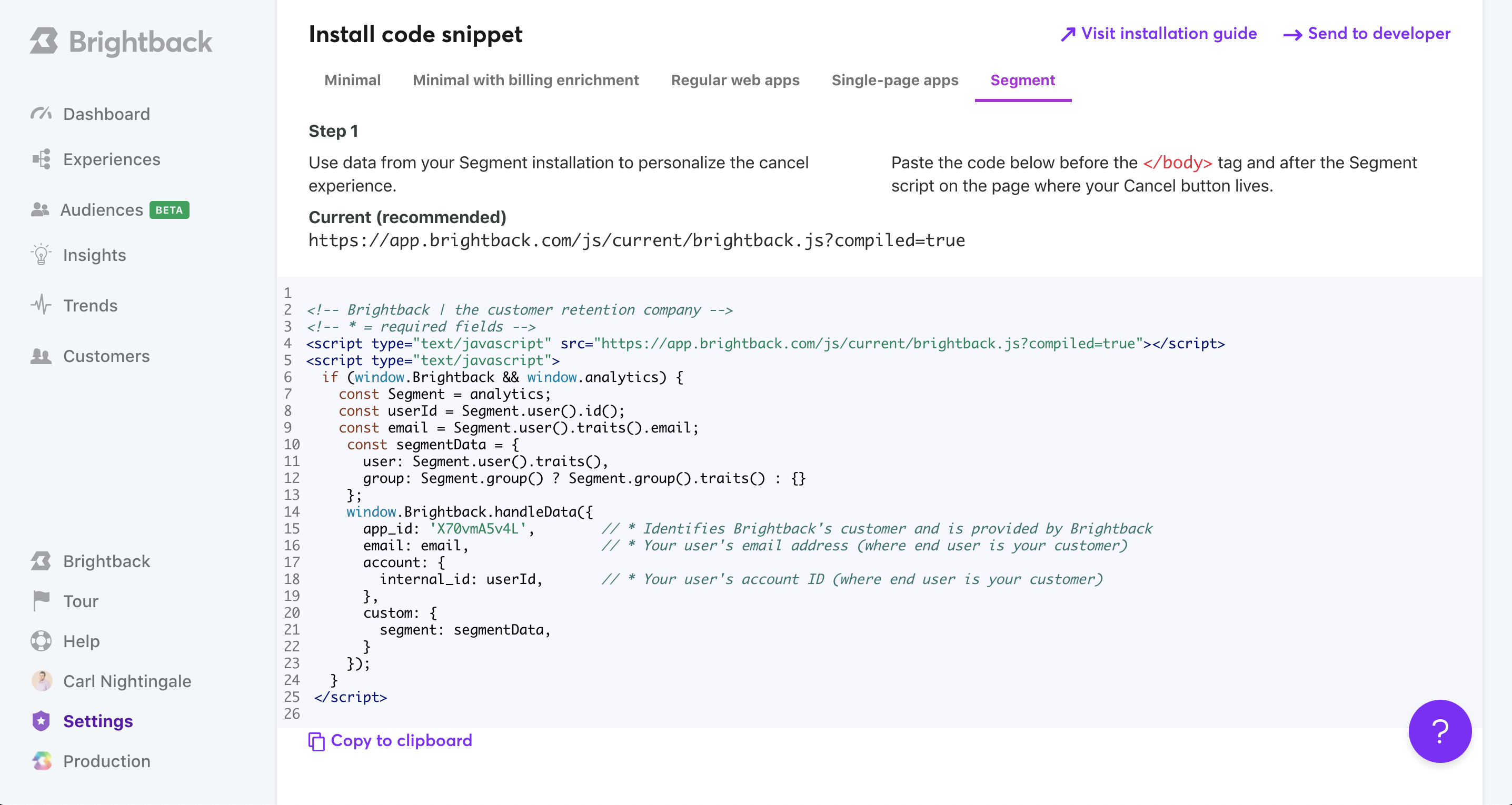 You might also like...