Carl Nightingale
Head of Product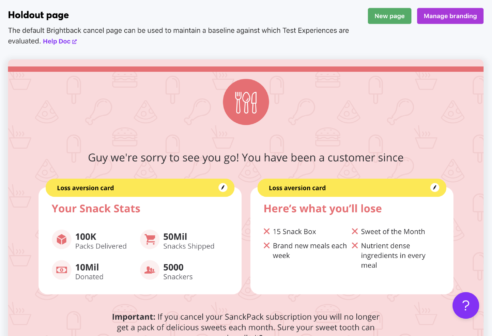 We have a few new features launching this week that will extend the value of Brightback for existing customers! After many customer requests for a better session testing solution, we are excited to launch our new sample Session Generator that allows you to run test sessions across all of your various pages / targeting logic. The Control Page tab allows you to easily setup and manage a global Control which can be used in Brightback to establish lift over your baseline and track performance changes over time. Finally, our Billing Integrations get another round of improvements with this release allowing you to configure these settings yourself, and directly link your offers to Stripe, Recurly or Chargebee's APIs.
Sample Session Generator for Testing
This has been one our most requested features, and we are excited to launch a new solution to enable admins to test their Brightback Experiences.
The Sample session generator allows you to test an individual Brightback Page or your entire Targeting logic. This tool helps you answer questions like:
Will my offers/cancels process correctly in billing?
Do my pages send users to the correct return URL?
Does the Offer I just created show up properly and update my billing system?
Are the Targeting rules that I defined working?
You can access this tool via the Pages or Targeting tabs. These sessions will run your integrations, contain all of your Brightback actions and events, but will be excluded from reporting. For more on how to use this Session Generator, visit our help doc.
Holdout Page
We are making it easier for you to measure the performance of your Test Pages by establishing a no-offer Holdout page. Running a successful test in Brightback often requires you to establish a global holdout to assess your baseline deflection performance without Offers.

This new page allows you to configure your Holdout experience which can then be copied to set up additional offer tests. We typically recommend that all customers hold out between 1-5% of traffic via a global Control without any offers to monitor changes to the baseline performance over time. This has several benefits, which are explored in more detail in this help doc.
Billing Configuration in Settings
We have been building out our Billing Integrations (via Stripe, Recurly and Chargebee) as they are core to setting up Brightback. Customers who choose to connect directly with these systems via our pre-build Integrations can now manage all of the feature configurations directly in their Settings tab.
Here we give you the ability to enable Attribution, Enrichment, Manage offers and Manage cancels. Depending on which integration you are using, the configuration will be slightly different based on the various systems respective APIs. See our help doc for more details on what each of these configurations means and what they enable you to do.
Manage Offers: Apply Discounts/Pauses/Plan Changes Directly to Subscriptions
Brightbacks new Manage Offers functionality allows you to directly link your Brightback Offers to your respective billing system to process automatically, removing the need to engage Engineering to make these updates.
Integrate Brightback to Stripe, Recurly or Chargebee and we will allow you to link Discounts to coupon codes, apply Pauses / Extensions to subscriptions, and swap from one plan to another. For more on setting up these Offers, visit our help doc on Offer Management.
You might also like...