Guy Marion
CEO & co-founder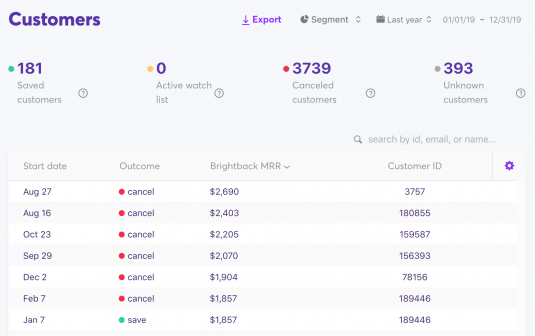 The Bright Stuff is a roundup of all the bright and shiny product and feature releases we've made over the past month to help you stay in the loop of the latest and greatest Brightback has to offer. This month we bring you sticky customer sorting columns, custom fields in your Customer Pages, and billing integrations.

Solving a sticky situation
We've alleviated some product awkwardness by making the self-selected sorting columns in the customer's pages sticky. Sorting columns used to revert to default any time you left the Customer's Page, resulting in many exasperated huffs and unnecessary extra clicks. Now, your column selections save when you leave and come back to them.

Fields of dreams
The custom fields capturing whatever you dream up can now appear in the Customer Pages. If you pull it in with the Brightback JS snippet, you can now view it and export it from the Customer Page with just a couple flipped switches on our end. Contact support@brightback.com to enable in your account.
Show me the money (literally)
Customers of Stripe and Recurly can now connect their billing system to Brightback to see the impact of their saves and cancels in terms of revenue, and also validate each saved customer against their billing system to cross-check they still have a paying account.
Revenue attribution
In order to truly know the impact a customer lost (or saved) has on your business, you need to look at the customers value in dollars and cents, now possible with our billing integrations.
Revenue in Insights
Toggle to Revenue View in the Insights Report to see a breakdown of Cancels and Saves by Revenue instead of number of accounts.
Revenue in Trends
With the billing integrations connected and enabled, the Trends Report defaults to revenue totals instead of customer totals.
Revenue in Customer Pages
Customer Pages have revenue, billing interval (monthly vs. annual) and Validation Status added to it when billing integrations are enabled.

Save Validation
With one of our billing integrations enabled, cross-check your billing system for every deflected customer to identify if a customer still has an active, non-canceled subscription 30 days after their initial deflection. With Save Validation, Brightback only reports on valid saves in Brightback Reports, and shows the validation status for each Customer that hits your Brightback Page in the Customer Pages.

We're cooking up ways to integrate with more billing providers to get revenue insights for all customers soon. Using a different billing provider than Stripe and Recurly? Let us know you're interested!
Join us in #u-brightback
Don't forget to join us in the u-brightback channel in the Support Driven Slack community to continue the conversation about churn and retention and product tips and tricks among other Brightback customers. You should have received an invite, but if you missed it you can join the community here and find us in the #u-brightback channel.
You might also like...