Carl Nightingale
Head of Product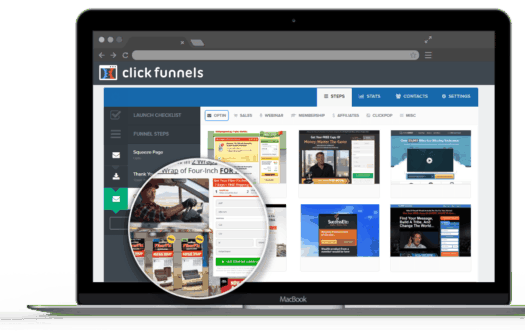 The Problem Solver: ClickFunnels, empowering over 100,000 Entrepreneurs to build optimized marketing funnels
ClickFunnels is a revolutionary online sales and marketing software designed for entrepreneurs and business owners who want to market their services and products online. The company also offers coaching programs like the One Funnel Away and is led by one of the most sought-after marketing masterminds in the industry.
Since its inception in September 2014, ClickFunnels has generated more than $250 million in sales, processed more than $3.89 billion through its software, and supported more than 100,000 customers, making it one of the fastest-growing non-VC-backed companies in the world.
ClickFunnels was named the "Best Entrepreneurial Company in America" by Entrepreneur magazine after topping the 2019 Entrepreneur360 list.
The Challenge: 100k customers creating cancellation data with no visibility
Clickfunnels strives to provide customers access to everything needed to create beautiful funnels all under one roof, within their solution. Providing this capability at scale to a community of 100k entrepreneurs with a wide array of skillsets requires an extreme amount of empathy and access to feedback and data at every step of the funnel.
Clickfunnels came to Brightback with a set of tools to manage their customers, including Zen Desk, Stripe Billing, Slack, Intercom, and Tableau for BI, but no scalable way to capture and act on customer feedback gathered from the cancellation process.
"Before Brightback we didn't have a way to deploy concurrent controlled retention experiences to validate our hunches on why customers leave

-- Irina Z., Clickfunnels
The Solution: Brightback brings insights that help shorten the time to value (a-ha moment)
The ClickFunnels team implemented Brightback very quickly, within 2 weeks, with the goal of optimizing not just the cancellation rate, but the entire customer experience. They immediately recognized that the customer feedback gathered from Brightback tests and survey responses could be used to create segments on the fly and trigger actionable retention experiences.
"Brightback gives us valuable, timely voice-of-customer insights at the point of cancel that are now core to our product improvement workstreams and retention activities. By reading comments in Brightback, we realized that customers were not reaching their 'a-ha moment' quickly enough within the tool."
Specifically, the customer support team at Clickfunnels incorporated Brightback audiences into their proactive workflows to decrease cancellations and increase satisfaction. They learned to use customer training in conjunction with discounts and promos to engage customers and ensure they saw value in Clickfunnels.
They took the following steps:
Early engagement of at-risk customers; Pre-cancellation, customer service agents are proactively performing outreach on customers who land on Brightback's "watch list", which tracks customers who have been on the cancellation page.
Post downgrade customer training and rescue; After the cancel page experience, they are performing cs feedback calls on customers who downgrade to improve their comfort and use of Clickfunnels tool.
Winning back customers who cancel for wrong reasons; After cancellation, the team proactively placed cancelled customers in winback email journeys.
The end result - all customers who are "at risk" of cancellation are now participating in a training and feedback session that dramatically improves their experience with ClickFunnels' product.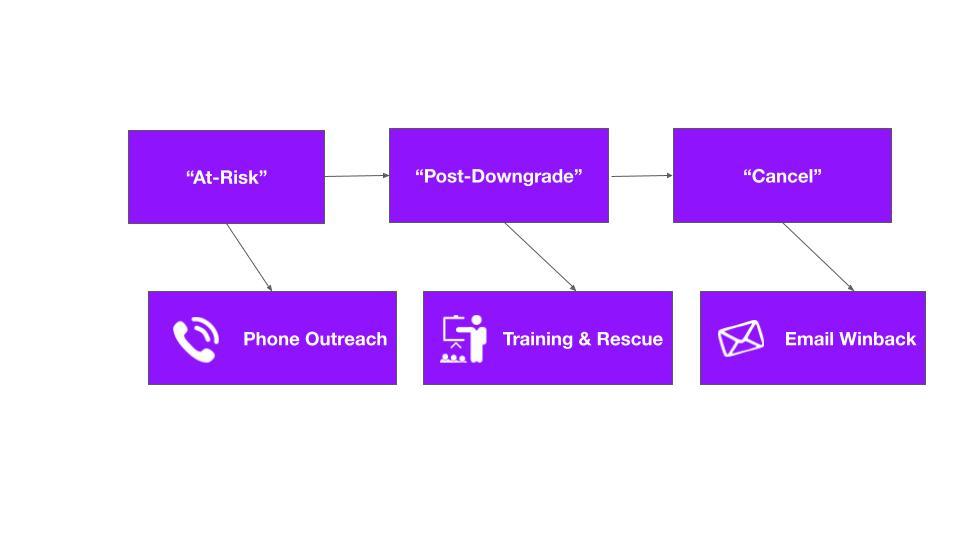 There were some other quick realizations as well - "For example we realized that we're burying customers in emails, which is driving cancellations...we've been working with our marketing team to decrease the amount of communications customers receive and prevent that from driving cancellation."
The Result: 2x Increase in Save Rate through constant testing
rightback has increased the velocity of testing and learning at ClickFunnels.
"The process to input and execute on tests in Brightback is amazing and quick. We just launch cancel tests consistently without friction, which has dramatically improved our business results."
The Clickfunnels team analyzed offer performance in Brightback and realized that Pause and Downgrade were their top performing offers at driving deflection.
To properly capitalize on these learnings, the team created an optimized cancellation experience that presented "loss aversion" cards with top offers, including deflection and pause, plus a final attempt at a discount offer ($97/month) after the customer survey. They only showed this experience to their most valuable, high subscription tier customers.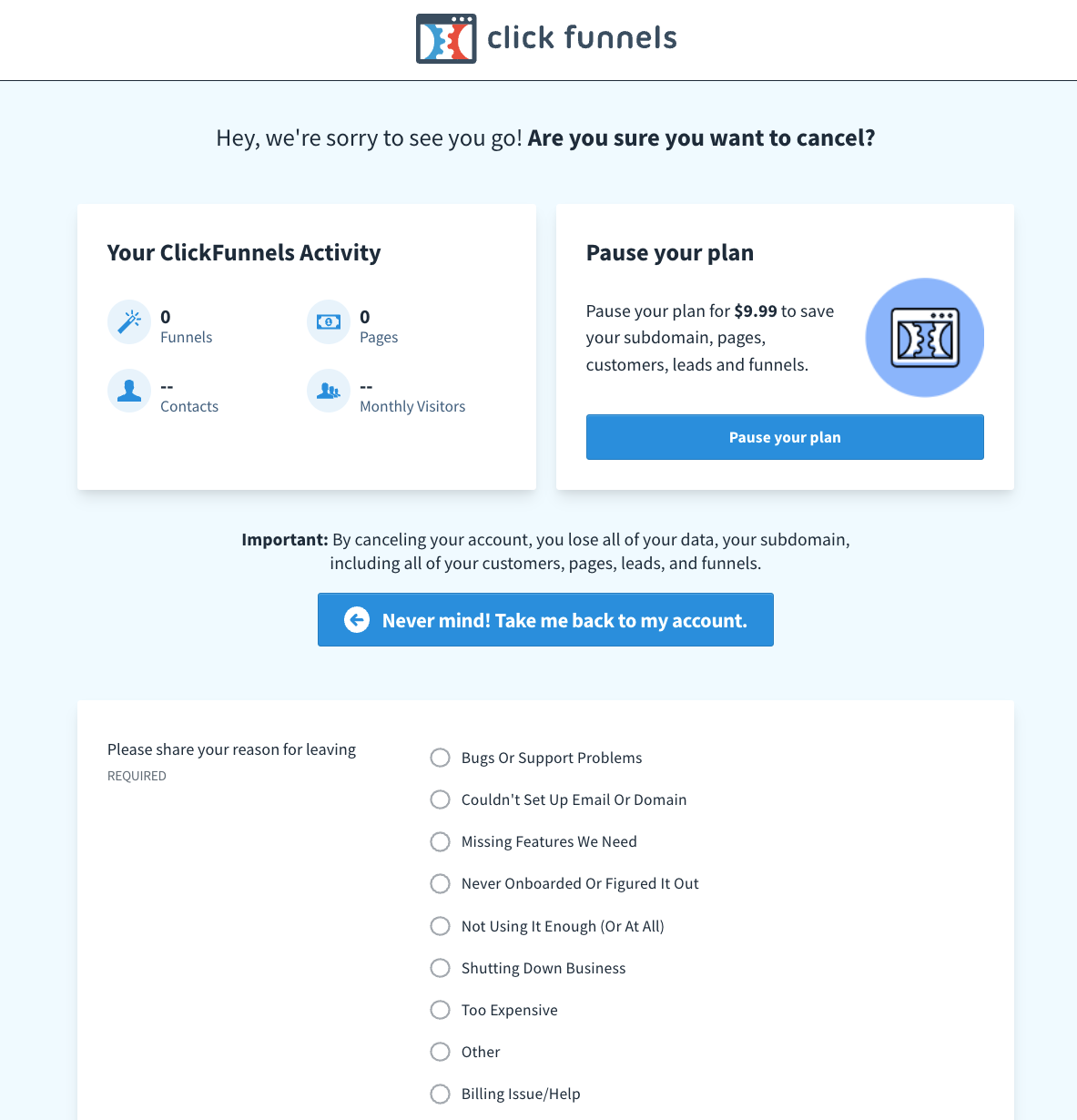 The result was a doubling of save rate over the course of a month.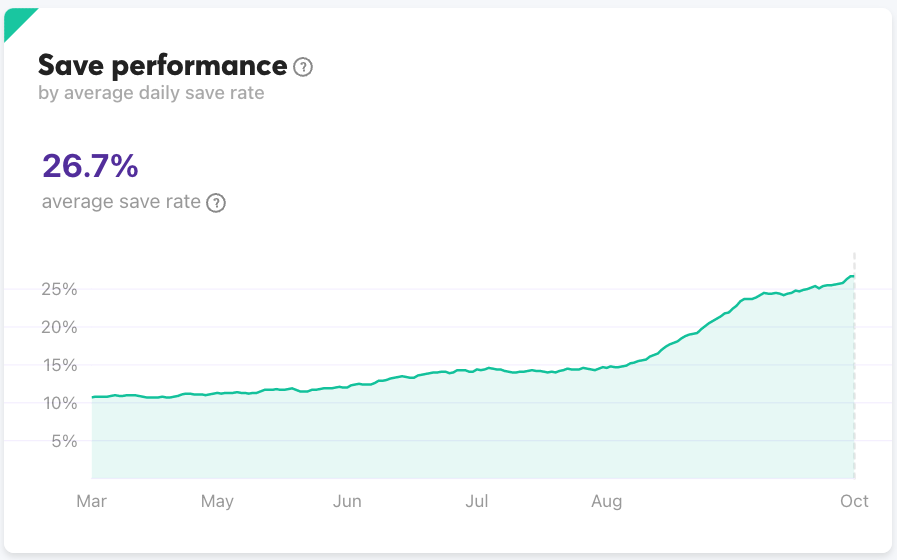 Optimizing flows like cancellation often comes at the expense of customer satisfaction. Too often we see prospects come to us at Brightback with flows that make it hard or impossible to cancel a subscription, which ultimately creates a negative experience for the customer. With Brightback, ClickFunnels was able to decrease cancellations, while increasing customer satisfaction ---
"We had a reduction of customer service complaints about difficulty of cancellation after implementing Brightback"
Irina Zee, ClickFunnels
You might also like...