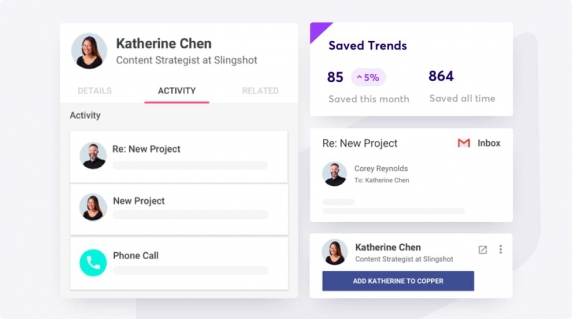 Copper (formerly known as ProsperWorks) is the leading Customer Relationship Management (CRM) for G Suite and recommended by Google's G Suite Marketplace. It's designed to help teams and businesses build long lasting relationships.
Copper empowers sales and marketing teams to deliver meaningful connections with prospects and customers over time, favoring customer lifetime value (LTV) over short-term acquisition gains.
Laser-focused on improving product experience and reducing churn
Copper prides itself on building scalable relationships with its customers and continually providing them with the best resources and opportunities to grow their business. The company needed a systematic way to identify, segment and assess the reasons customers were canceling. This would enable Copper to improve its service, while also preemptively reaching those who would stay on if their problems were solved.
By developing proactive two-way communication with its customers, Copper gains direct insights into pain points and can drive future-planning of its products and services. They also gain valuable feedback about their current offerings and how to improve them to better meet the needs of their target market.
Key challenges when managing customer churn
Resources spent on manual, ticket-based cancellation requests instead of higher value activities like onboarding, account management and turnarounds
No clear, automatic way to assess why customer segments were canceling and test new offers to re-engage them based on needs
Customer success teams lacked the time to provide a personal touch and effectively retain the high-volume self-service customer base while preserving relationships with high-value customers
The success of a high-volume subscription business depends retaining customers and reducing churn.
One way to reduce future churn is to understand the 'why' when your customers leave you. As a high volume SaaS company, it can be challenging to know why an account is breaking up with you due to sheer volume. Brightback provides us scalable and automated solution to this problem and allows us to surface opportunities to deflect churn.
-Carl Nightingale,
Customer Success Operations at Copper
How Brightback helps Copper drive its customer retention strategy
Customer experience stack
Copper uses Copper as its CRM, Zendesk as its ticketing system and Totango as its customer health platform.
Strategy
Segment customers based on key attributions including revenue, size and product usage.
Execution
Copper tested two Brightback cancel experiences (single tier vs multi-tier) against defined customer segments (active and inactive) for 30 days. The single tier experience provided a more simple survey, and the multi-tier experience delivered a survey that built on branching questions based on the customer's responses. Copper mapped Totango account field data to Brightback fields, which was used to segment and target dynamic, customized offers into both experiences.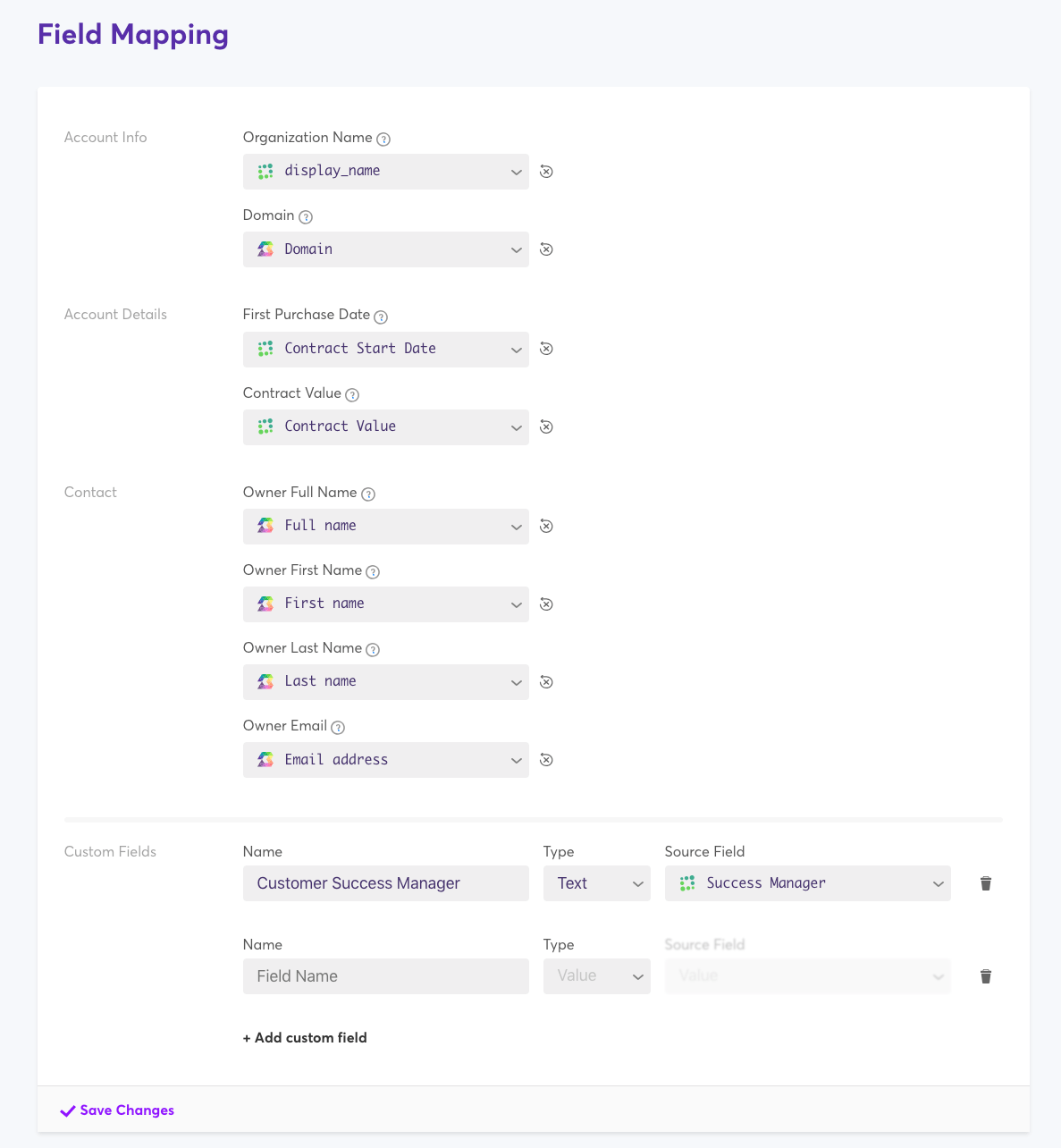 Results
The single-tier experience had a 15.4% increase in deflection (customers deciding not to cancel) and a lower complaint rate with more positive sentiment in customer comments.

Productivity jumped, too. Brightback automates important key events via Slack, so teams at Copper can see in real-time when customers have canceled or decided to stay on. This visibility enables the right person to take action on customer activities. As a result, Copper reduced support ticket resolution times by nearly half since using Brightback.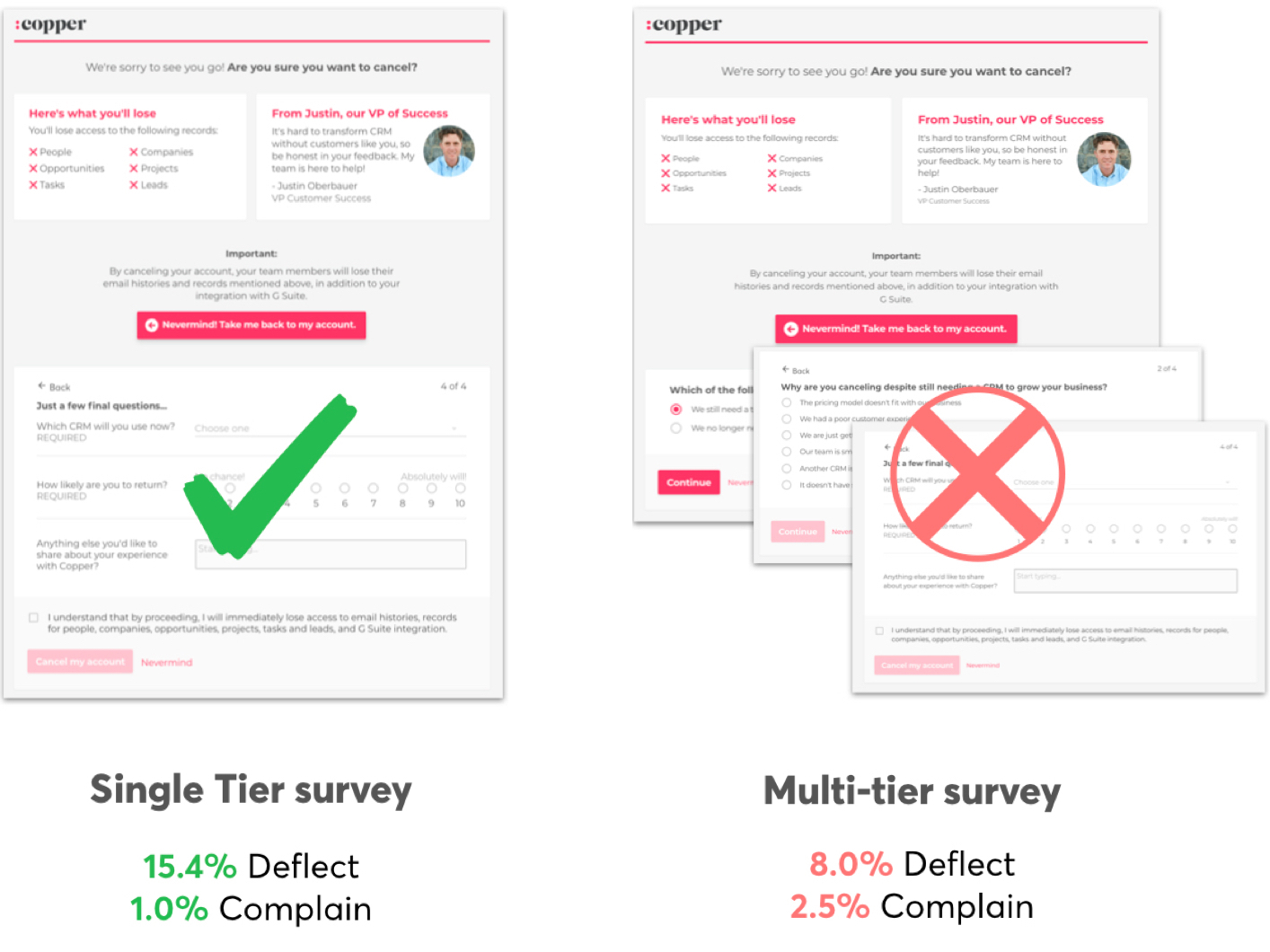 What's next: Identifying untapped opportunities
Segmentation has incredible potential to empower a company's retention strategy and is the cornerstone of successful customer experience. Copper recognizes the power of segmentation and personalization, and is using these results to deliver more of what their customers want.
"The best thing about Brightback is it allows our team to test, measure, and act, on why people leave or don't convert. For example, we were able to test two cancel flows and found a 96% percent lift using the simplified experience.
"We've been able to preempt cancellations, reduce time spent on manual tasks and focus on higher value activities like adoption, education and support. We're innovating, testing and sharing the results across the organization to drive a better customer experience." - Niraj Shah, VP Customer Success at Copper
Want to get closer to your customers? Let's talk, we have some ideas.
You might also like...