Guy Marion
CEO & co-founder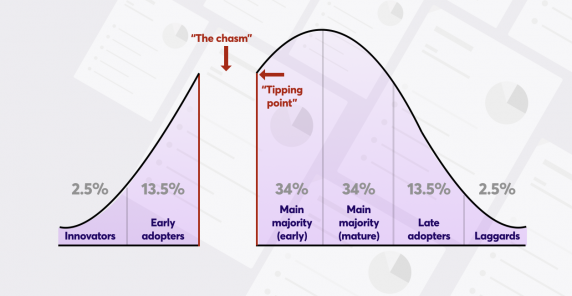 The subscription industry is facing intense change as the landscape matures and companies race to stop customer churn related to the Covid-19 pandemic. While many subscription companies were already turning to customer retention as a new lever for growth in 2020, current events emphasize the urgent need to consistently improve the customer experience in order to retain subscribers long term.
Subscription industry veteran Dan Burkhart, CEO and co-founder of Recurly, joined me on this webinar with Subscription Insider to share insights on the current phase of subscription growth and discuss retention tactics for increased churn.
The subscription industry is entering a retention-led phase of growth
While it's difficult to remember when the subscription model wasn't as popular as it is today, a select few early innovators contributed to a rapid adoption of subscription services and goods, which reached a tipping point in 2012.
From there, accelerated growth led by an acquisition-first mindset drove companies to tout astronomical metrics while ignoring basic principles of customer retention. This growth-at-all-costs approach has led to some painful lessons. In 2018, California enacted legislation stipulating subscriptions that are entered into online must be available to cancel online—changing the landscape for California-based companies as well as for any customers residing in California.
And it's been impossible to ignore headlines from companies like WeWork and others who have had IPO events marred by poor unit economics and lack of profitability. 2019 demonstrated that the days of spouting fast, easy growth backed up by vanity metrics are over.
Because we've reached a point of max fragmentation in the industry, companies know their specialized products and services will need to prove their worth. In our 2020 State of Industry report, 93% of leaders at subscription businesses said they view retention as being just as or more important than acquisition. Of course, our report was released before Covid-19 had become the global pandemic we're facing today, which further underscores the importance of retaining customers as the landscape shifts.
Covid-19 is impacting the subscription industry in different ways
Business operations and consumer behavior have changed rapidly over the course of the year as the pandemic continues to evolve. During the webinar, 69% of attendees indicated their current churn rate has been impacted by Covid-19 and 13% said they had paused all growth initiatives for the foreseeable future.
At Brightback, we have the unique perspective of viewing cancellations for multiple verticals and observing how external factors impact the subscription industry as a whole. In March 2020, we saw average daily cancel volumes increase by 50% compared to the pre-pandemic baseline. That record gets broken nearly every day with some days jumping as much as 166%. This corresponds with Google Trends data, which shows an approximate doubling of search volume for "cancel online" in March.
While SMB-focused and in-person subscriptions are being hit hard with customer churn, some offerings—like meal delivery and online education—are experiencing a high rate of sign-ups and usage. In an article published by the Wall Street Journal, HBO Now reported a 40% increase in streaming after March 14th. Recurly said paid subscriptions jumped 32% and 24.1% for TV streaming and online education subscriptions respectively.
How to reduce customer churn during Covid-19
The subscription model has long been used as a way to ensure loyalty from a user base, but it's times like these where it's in a subscription company's best interest to delight customers with flexibility and understanding. The nature of our current environment means everyone is reviewing their budgets and active subscriptions to evaluate where they're receiving value and what they can live without. Naturally, many companies are finding their customers want to cancel and are experiencing higher customer churn.
To help reduce customer churn due to Covid-19, a key tactic subscription companies should put into place is to enact alternatives to canceling. Offering to temporarily pause an account, apply credits, suspend payment or have a 1:1 conversation to find a solution will make the difference in skyrocketing churn or extended LTV in this period.
In the past month, many subscription businesses have proactively adjusted their offerings to better serve customers and ultimately help reduce churn. Examples include NBA League Pass alerting customers that subscriptions were being proactively paused and Peloton increasing its free trial period to 90 days. These companies have adopted the attitude that cancellation isn't the only outcome for customers with changing needs right now and they'll retain more customers because of it.
What the future holds for subscriptions
While it's difficult to predict how long the current pandemic will last, we'll continue to see surging sign-ups for isolation-friendly subscriptions like meal delivery, entertainment and home fitness. We'll also see customer churn grow for companies that don't enact flexible options to customers who are facing uncertainty. These trends will continue for at least the next few months and possibly through the end of the year. At some point, current restrictions will loosen and companies experiencing growth will face a new wave of customer churn.
The winners of 2020 will be those who successfully retain the new customers they've gained. It's imperative that subscription companies absorb all the lessons they can from their increased customer base and continually ask themselves:
What options or offerings do our customers really want?
Do we have a core audience with specialized preferences that we should focus on?
Are my customers canceling for reasons we can manage or fix?
What kind of flexibility do our customers need right now?
This new era of customer retention will indelibly alter the subscription industry landscape. While some companies' hands will be forced due to unforeseen factors, this period should serve to emphasize that the customer is in control and retention has never been more important to subscription businesses.
You might also like...