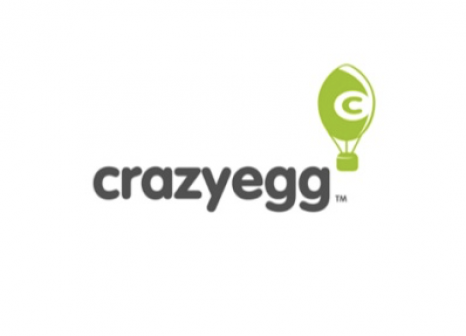 Experimentation is in Crazy Egg's DNA. Over the years, the company has expanded their suite of web analytics tools to include heatmaps, scroll maps, A/B testing and click reports. It's a company that customers rely on to make data-backed decisions: Crazy Egg is used by over 300,000 websites around the world.
The behavior of digital customers is constantly evolving—no one knows that better than a web analytics company. To grow more efficiently, Crazy Egg wanted to dive deep into user feedback, test offers to retain customers and optimize their churn reduction strategy.
Brightback helps Crazy Egg connect with the right customers before they churn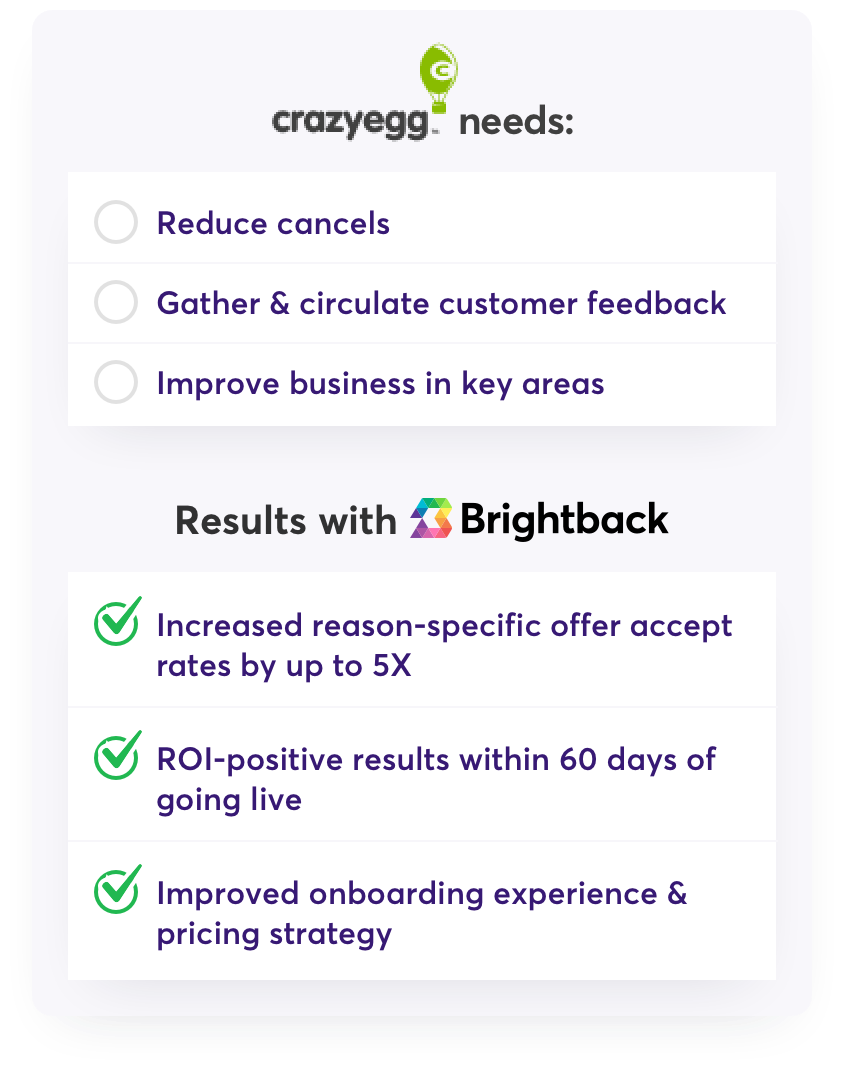 Crazy Egg can help anyone with an active web page. Their varying plans and trial offering meant that isolating customers for feedback and analysis was going to be a challenge. In spite of all the ways the company was gathering feedback from customers, they wanted to zero in on finding unmet needs that would reduce churn.
They started by building a churn management solution in-house, but quickly ran into the challenges of time, resources and skills. Tackling a tool that enabled the customer segmentation, testing and reporting capabilities they wanted became increasingly complex.
That's where Brightback comes in.
Crazy Egg implemented Brightback to segment and engage every customer at the point of cancellation. Now Crazy Egg provides a personalized cancel experience based on unique customer attributes. When a customer hits the cancel button, they're automatically segmented into monthly, annual and trial groups, so Crazy Egg can have conversations with the right customers and make changes where it counts.

Using Brightback to quickly iterate on offers to save customers
A key part of Crazy Egg's cancel experience is testing ways to retain customers based on their reason for cancellation. Utilizing Brightback, the company experimented with passive and hands-on offers presented to customers at the point of cancel. As these tests evolved, Crazy Egg isolated the most influenceable customer segments and pinpointed the offers most likely to be accepted based on the customer segment and reason for canceling.
Testing worked: optimizing messaging and offer types increased acceptance rates by up to 5X.
Take pricing. When paying customers said the product was too expensive, they were served up a custom offer for a one month discount. The data revealed that the discount didn't reduce churn. So, the team quickly iterated and offered two months, instead. Still, the churn metrics didn't show a significant impact.
After more testing, Crazy Egg found the sweet spot. Enter name your price.
Now when customers say they're canceling over pricing, they're offered a personalized message to name their price in exchange for upgrading to an annual plan. Offering customers the opportunity to name their price would certainly raise eyebrows at many SaaS organizations. But the strategy has executive buy-in—and it's working. Data collected in Brightback shows that 55% of customers who view the offer end up accepting it and remain paying customers.
Enabling customer success with Brightback
Insights from Brightback have changed the way Crazy Egg operates as a business. Churn analysis revealed that nearly a quarter of customers didn't have time to get started. And nearly 10% couldn't figure it out.

To begin, the Crazy Egg team set out to solve their customer needs by manually following up with via email and resetting their account or trial period. But they've also taken to reimaging the onboarding experience for their customers.
More resources have been invested in ensuring successful setup and installation, too. Now customer service representatives are on stand-by to "do it for you" when customers indicate they didn't have time to get their accounts set up. Using Brightback's integration with Zapier and Help Scout, the Crazy Egg team reaches out daily with an invitation to do account setup on a customer's behalf.
Optimizing the cancel experience
Crazy Egg has taken their approach to testing and applied it their cancel experience—with big results. Now the company has the insights it needs to take action, learn from customer segments and make improvements where they're needed most.
"To win on experience today you need to pay attention to customers throughout the lifecycle and be in a position to respond quickly to any opportunities to expand or save customer relationships," said Suneet Bhatt, General Manager at Crazy Egg. "With Brightback, we deflect one in four cancellation requests. More powerfully, we segmented all churn events and found that 40 percent are preventable. We restructured our team to jump on customers who never onboarded correctly, or need more time to learn, with a target of saving tens of thousands of dollars every month."

You might also like...