Guy Marion
CEO & co-founder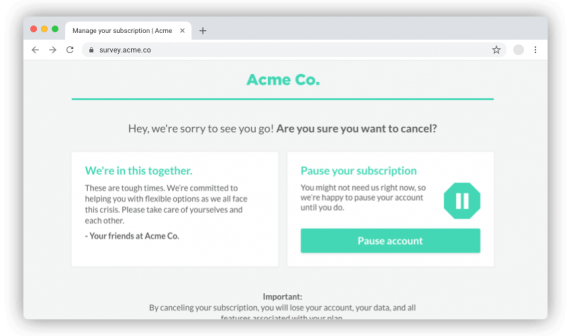 As this current crisis evolves, one thing is clear: we're all in this together. Across the subscription industry, sales forecasts are rapidly changing, companies are adapting to working remotely and teams are hatching new ways to keep businesses afloat.
There's a silver lining here. We're reconnecting. Spending more time with loved ones at home and rethinking what distance really means. Who says happy hours or Saturday night social gatherings can't be held over Zoom?
It's encouraging to see how businesses are rallying. Cinemark Theaters are proactively pausing accounts for loyal customers. The NBA is offering free streaming plans. B2B SaaS companies are stepping in to help small businesses who've seen sales drop off a cliff.
We have a unique perspective on customer retention being that Brightback processes thousands of cancellations on behalf of subscription businesses each day. In March, we've seen the volume of cancels jump 20%. We're working with our own customers to quickly roll out ways to give their subscribers what they need to be retained. And we want to help our industry get through this by offering free tools to prevent churn.
Free cancel page for Covid-19
Starting today, we're making available a free cancel page that any subscription company can use to help respond to COVID-19 related customer churn through the end of 2020. By redirecting your cancels to this hosted page, you can systematically track customer feedback and gather insights while providing offers to help customers get what they need instead of quit. Offers include pausing accounts, suspending payments or contacting your team to work something out.
We started Brightback because up to half (or more) of subscription customers quit services for reasons that can be fixed. We're not about introducing friction into the online cancel process, rather we help subscription companies reduce churn by automatically meeting customers at the right time, with the right offer, for the right reason. During this uncertain period, every customer deserves flexibility and empathy, and every company needs a way to deliver that. If you're looking for help, learn more here.

You might also like...