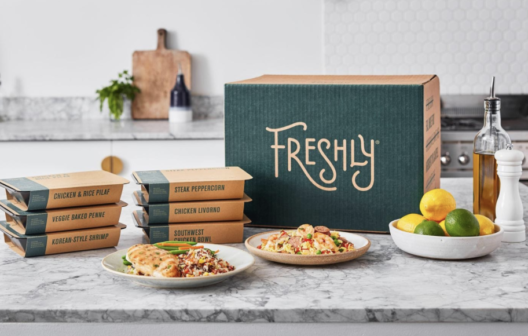 This case study was developed based on a joint session presented by Freshly and Brightback at Subscription Show 2020. Read the full recap and watch the recording here.

Freshly is the largest prepared meal delivery service in the country shipping 1 million meals a week to unique customers across the USA. Subscribers range from young professionals with long hours to elderly folks who like nutritious meals, which means Freshly must easily adapt to customer needs in order to retain customers long-term.

The subscriber engagement team at Freshly turned to Brightback to drive a high-performing retention program for online subscribers, and the results have translated to million dollar savings.
Partnering up with the product team to retain customers
Every team at Freshly is focused on improving profitability. A key area of focus for subscriber engagement leaders? Customer retention. Specifically, finding ways to extend LTV for customers on the brink of canceling.
"My team's goals are to drive retention and keep customers happy, so we're focused on understanding what problems our customers have and how we can solve them digitally," said Adrienne Bouchie, Product Manager at Freshly. "We wanted to use Brightback to start using personalized, targeted offers in our online cancel flow, which we weren't doing previously."
Concentrating on reducing online cancels, Adrienne and the team at Freshly set out to A/B test their existing cancel flow against Brightback. Freshly's original cancel flow had an exit survey, but making changes meant pulling from internal resources that were hard to come by. Brightback presented the opportunity to experiment at the point of cancel, which gave the Freshly team the ability to solve customer needs in the moment.
"We don't have a team dedicated to reducing cancellations, so Brightback empowered us to rapidly test retention hypotheses with low engineering effort, run data analysis after each experiment and share findings with stakeholders and get their input on future testing," said Adrienne. "It was really a holistic approach to retaining our customers."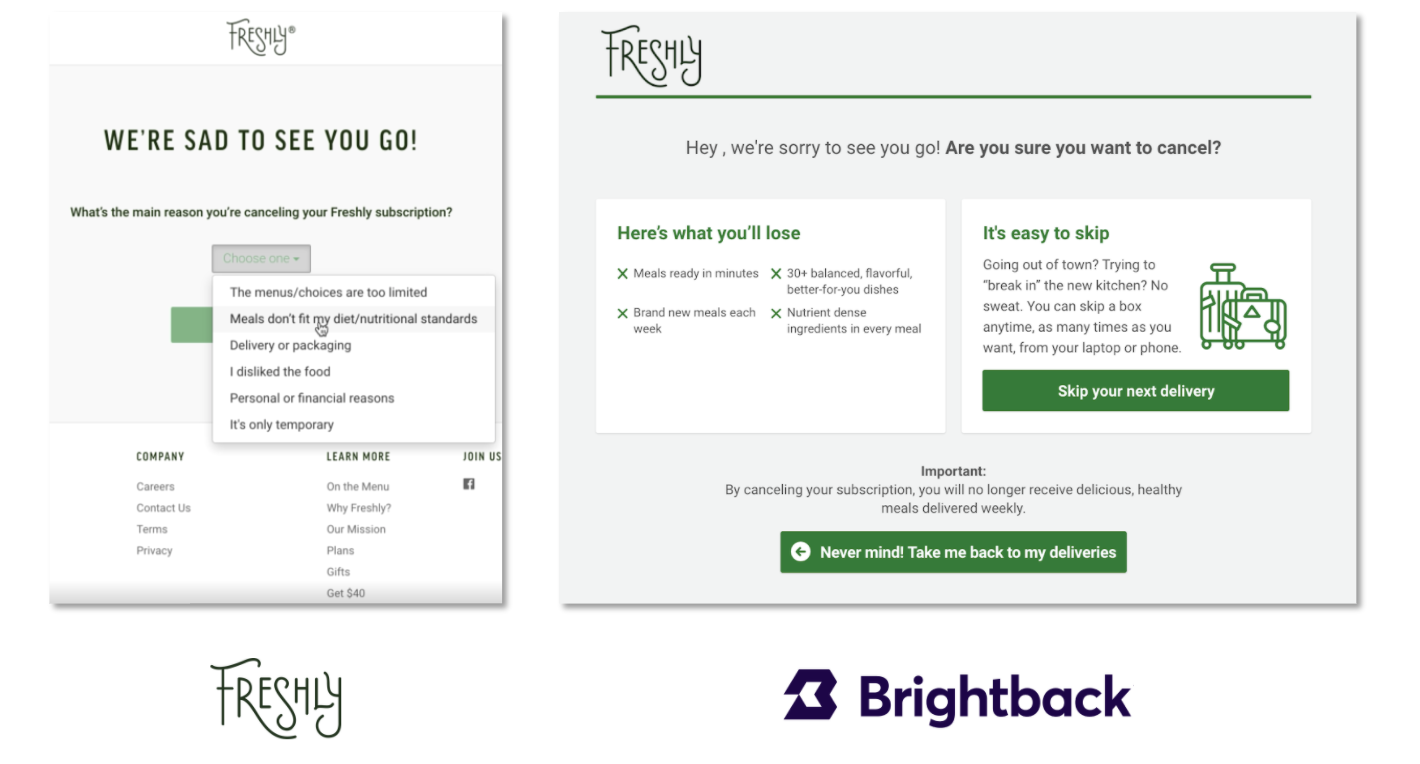 Retention experiments reveal what works for customers and the business
From there, Freshly used Brightback to randomize offers to customers at the point of cancel testing against a control to determine the highest performing offer categories. Clear winners emerged: price and flexibility. They experimented further within these categories to test different offer strengths while monitoring offer acceptance rates, cancel deflection rates and incremental revenue from accepted offers.
One such experiment included offering customers the option to skip multiple weeks of delivery. The offer had high acceptance rates, but there were concerns that this period of time was only adding a delay to inevitable churn. However, the data revealed that a significant number of customers who accepted this offer were retained and went on to generate more revenue.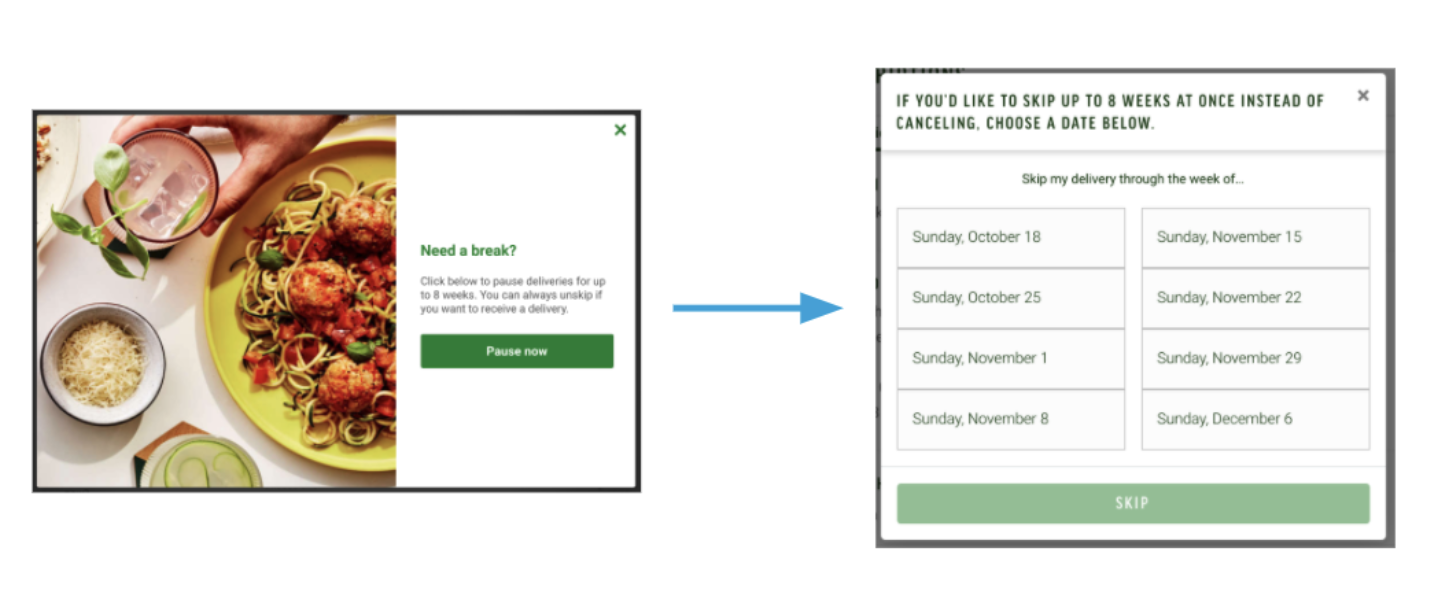 "We learned you cannot just look at one retention metric, because it doesn't tell the entire story," said Adrienne. "With Brightback's reporting, we were able to view multiple metrics together to understand which offers are attractive to our customers as well as which offers drive additional LTV for our business."
Using customer attributes to present personalized offers
Next, Freshly leveraged Brightback to create targeted offers for specific subscriber groups. Using cancel reason, customer tenure, customer LTV, plan size and a variety of other data attributes, Freshly serves targeted offers to specific customers instead of relying on a generic promotion.
This targeted approach became especially important at the onset of the global Covid-19 pandemic. Some customers needed to increase their shipments due to stay-at-home orders, while others had to pause due to relocation or financial hardship.
"We had to shift our initial strategy to accommodate customers going through a variety of changes in their lives," shared Adrienne. "This involved a lot of data collection and analysis using Brightback, Segment, Amplitude and Looker, but through this process, we were able to learn what our customers really want from us, and what we can expect to gain from tailoring offers to meet our customers needs."
Freshly learned that higher LTV customers were pausing more frequently, and coming back at a higher rate. This insight led to targeting longer tenured customers with offers to pause and flexibly manage their accounts. Customers experiencing financial hardship saw different offers. While other customer groups—like students—saw offers tailored to their specific needs, e.g. pausing their account for summer break.
A 800% ROI using Brightback to save customers
Freshly has gained new insights into which offers attract customers, which generate increased LTV and how different customer segments respond at the point of cancel. It's helped the company meet customer needs in an unprecedented way during an atypical year strengthening their customer relationships. And the revenue impact is clear.

In a 52 week time period we forecast an incremental 1 million in revenue thanks to our new retention strategy. Brightback has proven an 800% ROI for us.
Adrienne Bouchie, Product Manager at Freshly
What's next? Freshly is committed to using insights from Brightback to build stronger segmentation and personalized offers, push automated winback campaigns and hone their churn propensity model to proactively engage with customers. New insights gained will help to further develop and optimize their cancel experience—an effort that clearly pays off.
Want to take a systematic approach to saving customers at the point of cancel? Let's talk.
You might also like...