Guy Marion
CEO & co-founder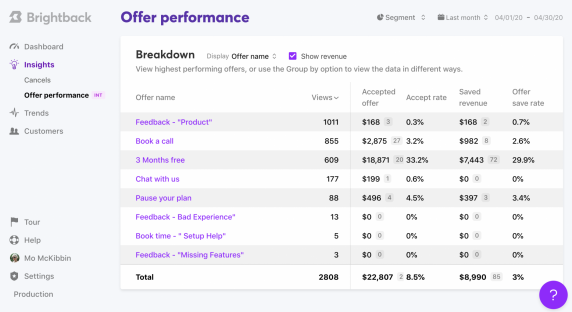 With our laser focus on the churn and retention space we're often asked for advice on best practices for automated winback strategies. We get questions like:
What's the best tactic to save customers: a pause or a discount?
Is a link to a help guide as effective as jumping on a 1:1 call for setup help?
We've seen across customers that answer can change from business to business, so we decided to build a tool to help customers test and see for themselves! Find the answers to these questions and more with Brightback's offer performance report, the newest way optimize your retention efforts through ongoing testing, so you can present the right offer, to the right customer, at the right time.

For each offer, see a breakdown of total views, how many customers accepted, and what percentage of total customer's saved came from that acceptance.

You can also opt to view the totals of saved customers by number of customers or in saved revenue, if you're using one of our billing integrations.

Use these insights to inform what offers you serve to which customers, but also business strategy. For example, if "booking a call" saves enough MRR to merit the labors lost, maybe it's worth prompting engagement before it's too late. Or if a couple of free months saves folks from canceling, it may be worth building in "holds" or "pause accounts" into your regular account pages, before customers get to the point of cancel.
Our goal at Brightback is always to empower customer retention, growth, and experience managers to optimize for saved revenue through online experiences without the need for ongoing engineering support. The offer performance report is just another way Brightback helps to test and measure churn and retention efforts at scale.
Using Brightback? to get Offer Reporting in your account.
Like what you see but not using Brightback? Let's schedule time to see if Brightback is right for your business!
You might also like...