Guy Marion
CEO & co-founder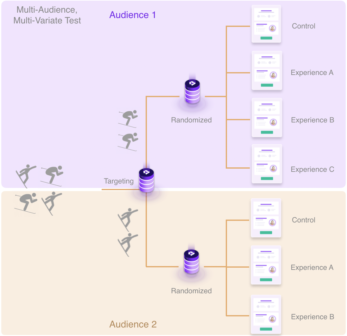 Test, target, and personalize your digital cancel and retention experiences

2020 really was the year when subscriptions hit a tipping point. The pandemic drove a surge of demand for "everything as a service", whether streamed for our entertainment, remote delivered to keep us fit, fed, and healthy, or used to be more productive in our work and personal lives.
As I type, I'm listening to Spotify, checking my trail hike from last weekend in AllTrails Pro, scanning open articles on NYT and The Information, and getting buzzed by FitBit Pro about needing to do my next Peloton session). Moreover, Gartner's prediction that by 2023 75% of D2C brands will offer subscription services, is becoming very real.
Gartner also predicts that only 20% will succeed in increasing customer retention, which is startling given that retaining paying subscribers is the ultimate driver of subscription revenue growth. Fortunately, Brightback is busy deflecting 18% of cancellations across our cancel retention platform, and are pleased today to announce major new releases that unleash our customers to take their testing game to the next level.
Create custom Audiences to personalize your customers' experience
Six months ago, we released Brightback's Experience Manager, which enables you to design, share, and deploy unlimited online cancel flows at will. Today, Brightback adds powerful audience targeting capabilities that allow admins to maximize save performance by presenting the right experiences and offers to the right audiences for the right reason. This also allows you to design smarter experiments and deflect more cancels and incorporate learnings into your product and operations.
Start with the Audience Manager to create custom audiences, using rules and operators to join data fields mapped into Brightback (e.g. from our code snippet, Stripe or Recurly billing, Salesforce CRM, or Segment.com). Interesting examples of subscribers to target with personalized offers might be: newbie subscribers less than 30 days old who have barely logged in but pay for a premium plan (quick: offer them an extension or a free month!).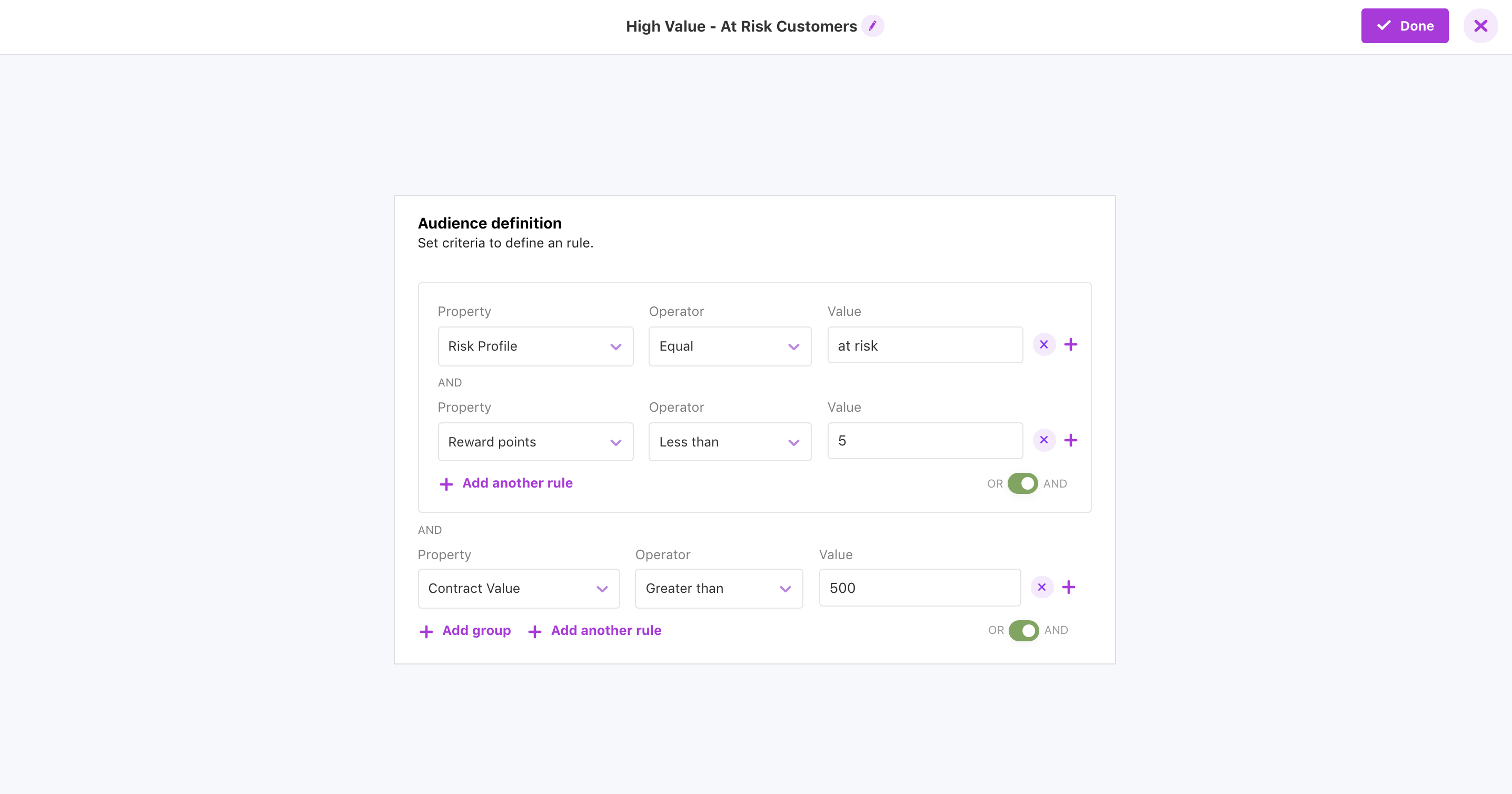 Another might be high LTV subscribers who have paid for at least 12 months, purchased more than 18 boxes, and have not accepted a previous offer (give them credit...perhaps spread across the next three purchases).
Target experiences to work the magic
Once your Audiences are created, then head over to the Experience Manager to define who gets to see what. Use Brightback's new editor to set up a cascading schema that lets you define the audience > page mix for 100% of your cancellations.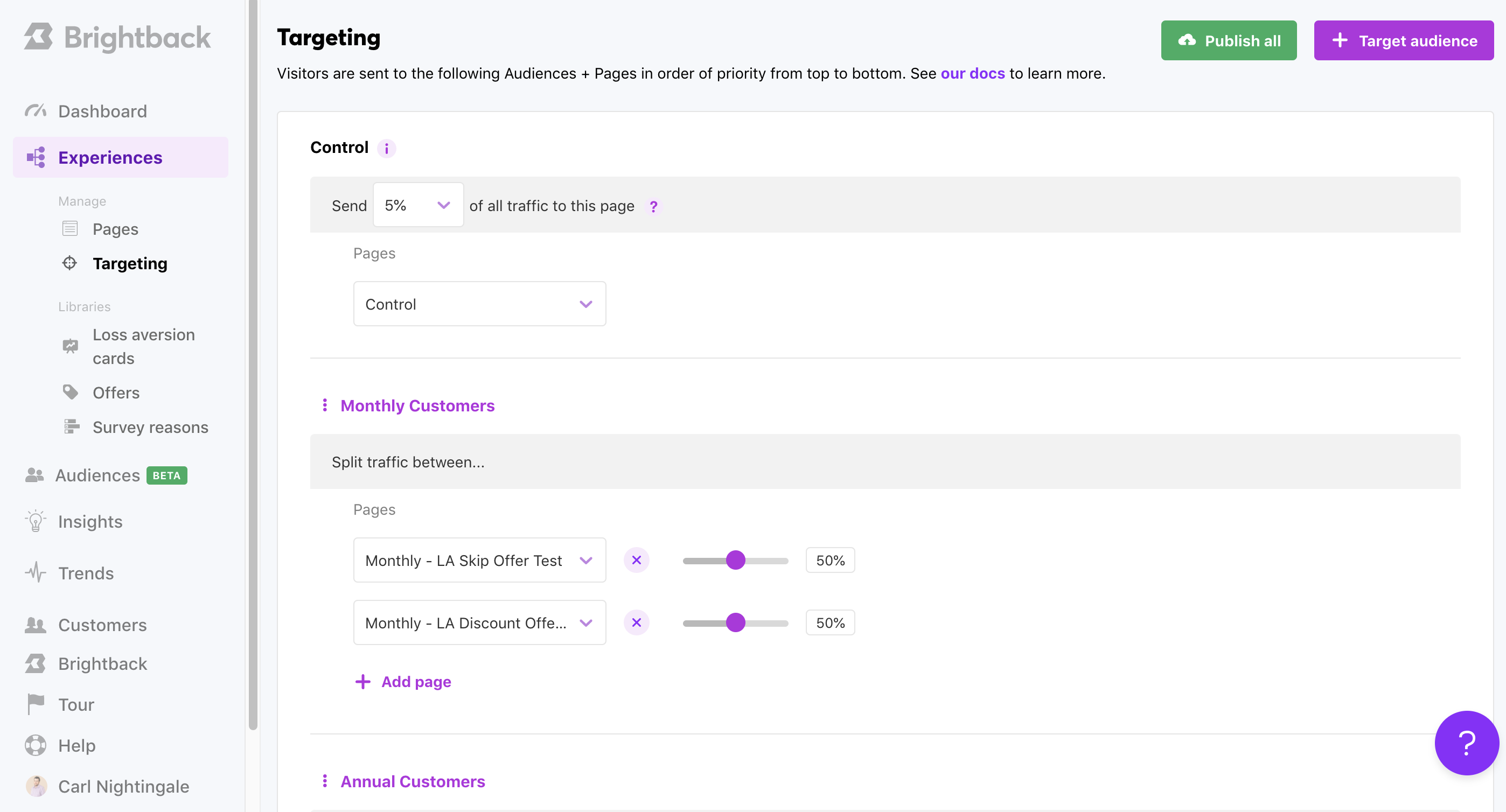 This means that when a user clicks cancel, Brightback will immediately segment them into an Audience, then route them either to a specific targeted page, or split that audience randomly across multiple pages that you're testing (with the percentage splits controllable by your or by Brightback's machine learning algorithm for high-volume customers).
Run powerful A/B, multivariate, or multivariate/multi-population tests
These new capabilities allow you to define and run simple A/B tests, multi-variate tests, or even design multi-population tests. In the example below, we're actually splitting out snowboarders from skiers, and within each audience population, we're randomly testing a series of offers or experiences to determine which offers generate the highest rates of acceptance.
This can be further enhanced using all the dimensions passed in the code snippet, to allow Brightback's machine learning algorithm to direct the skiers or snowboarders to the right page, based on everything we know about them (e.g. how long they subscribed, number of lift tickets bought all time, preferred ski resorts).
Team Brightback is excited to roll out the latest to the broader retention industry, and we look forward to seeing the iterations and use cases that emerge.
You might also like...