Guy Marion
CEO & co-founder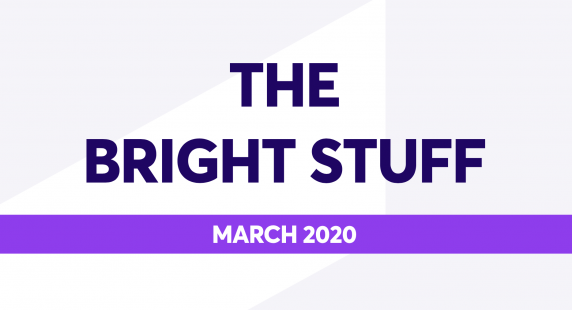 The Bright Stuff is a roundup of all the bright and shiny product and feature releases we've made over the past month to help you stay in the loop of the latest and greatest Brightback has to offer. This month we bring you reporting on custom fields, a new (more flexible) UI to the Trends Report, search on the customer pages and webhooks in the Alerts UI.
Reporting on Custom Fields
Custom Fields in the Brightback Javascript snippet (or pulled in through our Salesforce Integration) allow you to target and personalize your Brightback Experience. Now, view them in the customer pages alongside the rest of your customer data.
Export and cross-report on any custom attributes with customer Cancel, Watch list, or Save trends. Set em' up in your account with these instructions: Reporting on Custom Fields.
The latest trends
Our Trends Report has a fresh new look in fashion for Spring. More visual real estate makes it easier to drill down into the nitty-gritty reporting details.
Filter using dropdowns for more reporting flexibility. Filter report by customer count or revenue, and group by reason, return likelihood, competitor, commented, segment and category.
Customer page search
Need to find someone or something specific? We've added a search bar to the customers page to flag any specific customer details.
Hooked on Webhooks
Using Zapier or Webhooks to trigger events? You can self-manage them in the UI. Just head to settings and click Alerts. You can turn them on and off from there. More info here: Manage Alerts.
In case you missed it…
On-demand webinar: Customer retention in 2020 with Recurly and Subscription Insider
Subscription industry veteran Dan Burkhart, CEO and co-founder of Recurly, joined Brightback CEO Guy Marion on a webinar with Subscription Insider to share insights on the current phase of subscription growth and discuss retention tactics for increased churn. See the recording here: Covid-19, retention and more: The current state of the subscription industry
Covid-19 resources
We have been hearing concerns from many of our customers about managing churn in this global crisis we're all facing. Across the subscription industry, sales forecasts are rapidly changing, companies are adapting to working remotely and teams are hatching new ways to keep businesses afloat.
While many of the forces are out of any of our control, we've put together a guide with tips on managing what you can control using Brightback: Managing churn and retention during a global crisis
You might also like...