Unbounce has made a business of helping companies optimize conversions and business growth. As the authority on landing pages and conversion optimization, the Vancouver-based company has amassed a user base of 15,000 plus businesses, including Zola, Later Media, and the Red Cross. Unbounce customers are diverse, representing nearly every industry and vertical, and is used for a variety of marketing and growth initiatives.
As a customer-first company, with a vast user base built over a decade comes the challenge of retaining customers, each with its own use case and conversion goals. To reduce cancellations and surface valuable feedback, Unbounce needed a robust tool—one that did so much more than their current exit survey—to help turn the Unbounce cancel process into a jumping off point to take action.
The checklist for that solution included new functionality led by the revenue team, plus the ability to serve other needs across departments in a seamless way. Brightback checked all the boxes, and Unbounce kicked off a new initiative to reimagine the cancel experience for their customers.
Unbounce needs

Iterate without engineering resources
Segment customers based on account maturity
Provide offers and outreach to customers in the moment
Directly impact gross and net retention metrics
Results with Brightback
Deflected 11% of cancellations
Richer customer interaction with informed teams
Smarter workflows across tools to engage and save customers
Deflecting 11% of cancellations with a new (and improved) customer experience
Unbounce's previous cancel experience consisted of a static exit survey that collected cancel reasons into an equally static database. Pulling engineers off product-related projects to change or test the exit survey was rarely a priority and the company couldn't save customers before they left, because the existing process didn't include a way to engage customers in the moment.
To start, Unbounce A/B tested Brightback against its current cancel experience—half of their customers who wanted to cancel online went to the existing cancel survey and the other half went through the Brightback experience.
The company spotted big wins right away and implemented Brightback for all cancellations.
"We ran Brightback side-by-side with our original cancel flow and learned right away that we could actually deflect cancellations without introducing friction," said Max Tims, Unbounce's Directory of Revenue Ops and Strategy. "Now we understand that when a customer hits cancel, they're raising their hand for a lifeline. With Brightback, we're able to deflect 11% of cancellations by being there for our customers when that hand goes up."
Focusing on what customers need by optimizing offers and segmentation
A key part of Unbounce's ability to help customers at the point of cancel, and ultimately deflect cancellations, is segmentation. By using Brightback to provide different users with tailored cancel experiences, Unbounce is able to engage customers with the right context, and the best teams get involved based on a customer's unique needs.
Today, Unbounce segments customers based on early stage and late stage accounts while tracking offer performance across segments. It's the opposite of a one-size-fits-all strategy, which stays true to Unbounce's identity as a customer-centric organization.
When customers who have had an account for less than 90 days want to cancel, they can raise their hand by booking a chat with the sales team. Offering consultative sessions to new users has proven effective for those early in their customer journey—it's the number one most effective way to save Unbounce customers. For customers who have had an account for more than 90 days, alerts are sent to the support team where technical questions can be more easily resolved.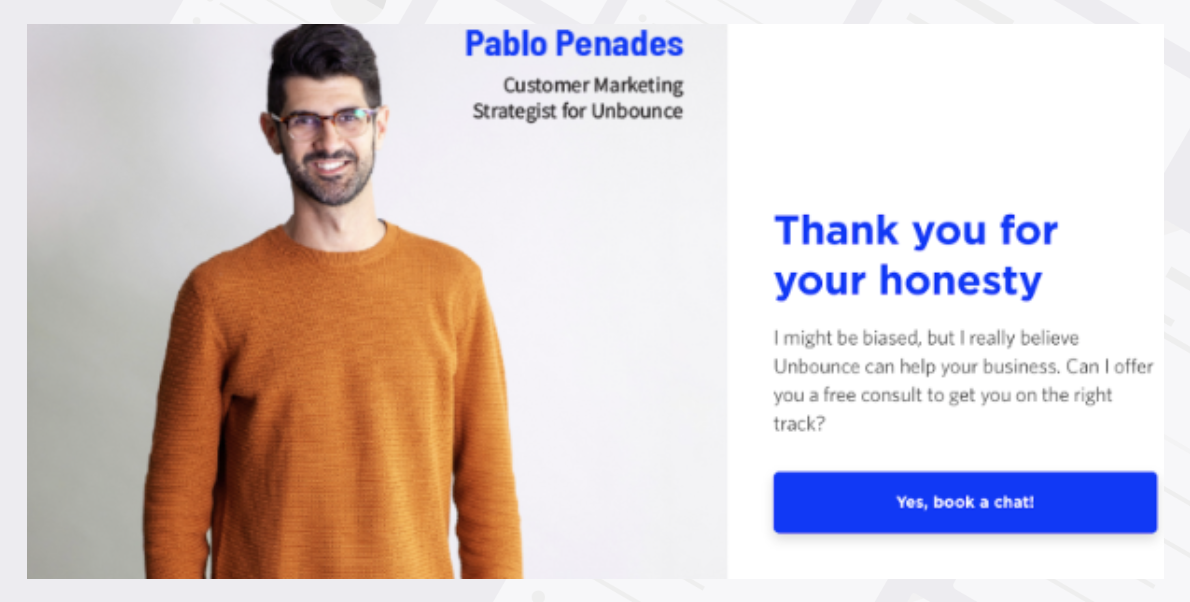 Creating business impact without getting in line for engineering resources
Unbounce's current approach to customer segmentation and offer strategy has yielded new findings about the customer journey without a constant stream of asks for the product team. The revenue organization tracks offer and segmentation performance, collaborates with customer and product marketing teams to iterate on offers, and then makes changes immediately with Brightback. No engineers required.
In the future, Unbounce plans to test segmentation by activation event instead of age of account, and it's a test the revenue team can implement and track without competing against a product roadmap—a major win for a high-growth company like Unbounce.
Brightback enables our revenue teams to iterate on our cancel experience rapidly without needing internal Product resources. That was an advantage for our team right from the start. We're empowered to test different copy, creative and offers without needing engineers, and that's allowed us to move and learn faster.
- Max Tims,
Directory of Revenue Ops and Strategy, Unbounce
Empowering customer-facing teams with tools they already use
Unbounce also placed Brightback right into its suite of tools. Orchestrating workflows in Salesforce, Zendesk and Slack, Brightback works together with Unbounce's customer experience stack to keep teams in the know about customer feedback and cancellations.
Brightback integrates with Unbounce's Salesforce instance to keep all customer-facing teams on the same page. Data gathered in Brightback is exported to Salesforce where accounts are updated with new details about when a customer cancelled and why. This helps Unbounce team members have more context when speaking with previous or current customer.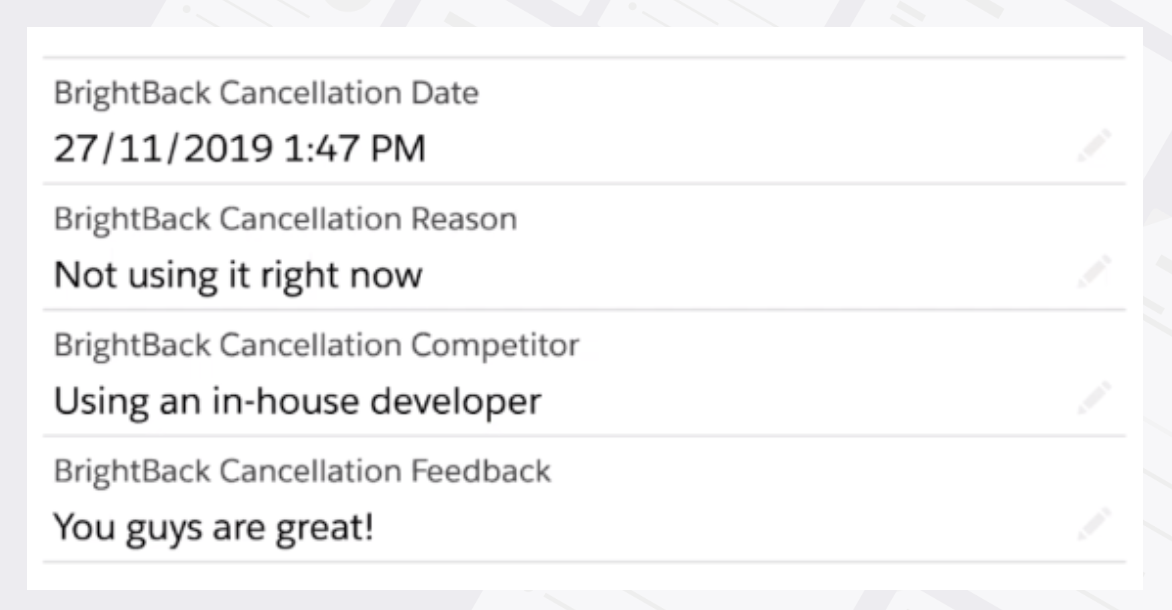 Unbounce also uses Brightback with Zapier to help customer-facing teams respond to issues right away. When an Unbounce customer cancels for reasons related to billing or experience, a Zap triggers an alert in a dedicated Slack channel shared with support and success managers.
Armed with the reason for cancellation, additional customer feedback and account details from Salesforce, team members at Unbounce can triage and engage with customers at critical moments.
Customer engagement is better with Brightback
Enabled by Brightback, these new retention workflows stand in stark contrast to Unbounce's former exit survey and offboarding process, where data was stored outside of customer experience tools and far away from those eager to help customers.
Visibility into cancel reasons, the ability to segment insights by customer groups and enacting new workflows for real-time engagement have had a major impact on Unbounce's retention goals. And without creating more strain on internal engineering resources.
Today, this customer-focused organization is able to proactively help customers at the moment of cancel, while also deflecting a double-digit amount of those cancellations.
"Before using Brightback, we couldn't take action on data that our customers were giving us at such an important moment. It was definitely holding us back," said Tims. "Brightback has changed the way we operate."
You might also like...