Carl Nightingale
Head of Product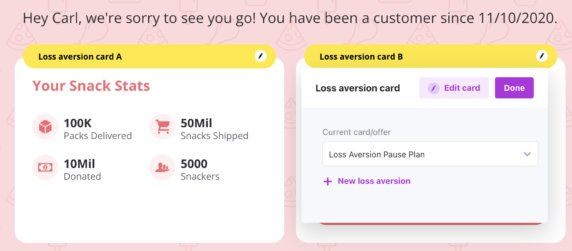 Today we announced the general availability of Brightback's new, slimmed down Essentials plan (with free 30 day trial). For the first time, Brightback Essentials customers can purchase and manage their Brightback plans directly from within the new Account tab in Settings, including viewing product usage (retention sessions used), viewing/downloading invoices, and changing payment details.
And coming soon, we will enable existing Performance and legacy Essentials customers to manage billing from within Brightback - stay tuned!
In addition to new online billing, included in todays release are features that take advantage of our new in-line approach to page editing:
Ability to manage loss aversion (LA) cards, open the LA card editor, and create a new LA card in-line from within the Page Editor
Configure reason-based offers from within the Page Editor
Add highly requested new fields into the Customers page: Page Attributed, Offers Accepted, Modal Feedback and Drilldown Modal Feedback fields
View, add, and remove users from within Settings (note: limited to Billing Admins)
Add emoji's and other special characters to your Cancel Pages
Clean up your admin experience by archiving unused Pages, Offers, LA Cards, Audiences, and Cancel Reasons
In-Line Page Editing: LA Cards + Survey Reasons
Over the past few weeks you may have noticed that we have rolled out new in-line page editing features, enabling you to take action from within the page itself. We're shifting to in-line page editing in response to customer requests for a simplified user experience, and early feedback and test results have been positive. We are excited to unveil the first in a series of changes along this theme.
You can now swap out Loss Aversion (LA) cards, open the LA card editor, and create a new LA card directly from within the Page editor itself. Gone are the days of clicking on the LA card only to remember that you have to leave the page, go to the library, edit the card, save it, and return to the page.
We are also shifting to in-line editing of Survey Reasons and Offers. From within the Page editor, you can now select an existing reason, and assign an Offer to it. Orreate a totally new Reason, and assign an Offer to it. This editor combines the Survey reason library and Offer placement functionalities within the page editor, making it easier to deploy and edit your Cancel Experiences in a few clicks. For more on the new in-line page editing functionality, visit our help docs.
New Fields in the Customers Page
We are regularly asked for deeper user insights and more user engagement data of Brightback pages and offers. With today's release, we are adding new fields into the Customers page, which allow you to view the Page on which a deflection funnel event that resulted in the session outcome occurred ("Page Attributed"), as well as Offers Accepted. You can now view and export these for further offline analysis, or to join with key Deflection Funnel metrics.
We have also surfaced the responses that your customers type or multi-select from within the Feedback or Drilldown Feedback modals.
Responses are presented in the following format: Modal Name: "feedback text", which can be added to Customers page view via our field selection dropdown. Additionally, we have updated the 'Last Action' field to surface specific customer actions (canceled, accepted modal offer, accepted la offer, clicked nevermind, bounced).
User Management Improvements
Brightback has implemented the concept of a Billing Admin, who has additional privileges beyond that of a standard Brightback user. This includes managing your plan and billing (now available to new Essentials customers only), inviting, as well as removing Users from the account. No longer must you contact support to remove a user from your account. For more on the Billing Admin visit our help docs.
Special Character Support in the Cancel Page
Another popular feature request was the ability to support special characters such as emojis or foreign characters used in certain languages. We have updated the content libraries that our admin app and Cancel Experiences use to support the latest emojis and special characters so you can personalize your pages to make them more friendly and inviting.
For more details on the Special Characters that are supported within Brightback, visit our help docs.
Archiving Content
In response to requests to organize and clean up the work space, we have added the ability to Archive Content across the Experience Manager, including the following: Offers, Loss Aversion Cards, Survey Reasons, Pages and Audiences.
Even if you archive an offer or content, your past reporting remains intact. Archived offers and content will still show up in any reports when they were previously used in live sessions, however they will be hidden from your working views, such as Pages, Audiences, Survey Reasons editor, and so on.. You can always view and reactivate archived content later by expanding the dropdown within each library.
And that's a wrap! We have a few more exciting enhancements coming to round out the year, and will share those when they are available.
You might also like...