Guy Marion
CEO & co-founder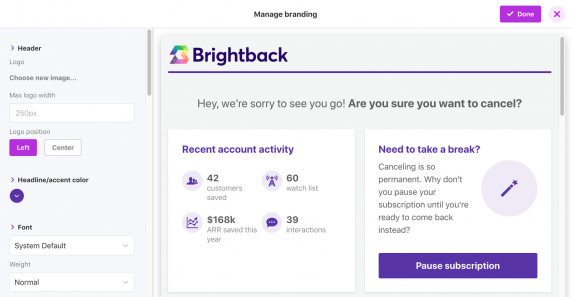 April showers brought May updates, and we're stoked to share everything the Brightback team released last month. New reporting to measure your offer performance, small improvements like better vanity domain support and scrubbing test emails from reports, and the kick-off of an exciting new beta all made their debut in Brightback this spring.
Offer Reporting
Ever wonder what's more effective, a pause or a discount? Booking a call or showing a video? Answer these questions and more with Brightback's Offer Performance Report, the newest report to help optimize your retention efforts with ongoing testing. Leverage the Offer Performance Report to present the right offer, to the right customer, at the right time.
See a breakdown of total views, how many customers accepted, and what percentage of total customer's were saved by viewing and accepting that offer.
View totals of saved customers by number of customers or in saved revenue with one of our billing integrations.

Learn more or get started.
Custom Vanity Domains
We have upgraded our internal infrastructure to support dynamic certificate issuance from LetsEncrypt 🎉
LetsEncrypt allows organizations like Brightback to obtain and manage SSL certificates on behalf of their customers. In the olden days of Brightback, setting up the vanity URL was a clunky, multi-step process. With LetsEncrypt, we've streamlined that process to make it easier and more stable for new and old customers alike.
Not using vanity URL? Get started with the process.
Scrub Test Domains
You can't clean anything up without a little scrubbing. To make sure our customer's reporting data stays squeaky clean from testing emails, you can now scrub any email addresses with your company's domain from your test results. Want this in your account? .
Sticky Funnels
No, this isn't a delicious treat at a county fair, but an improvement that cleans up the customer experience for canceling customers. Previously, when testing randomized offers with our Brightback Testing Methodology, the experience had a little loophole. If a customer hit your Brightback Page one day and did not cancel, but then later hit the page another day, there's a chance they would see two different Offers each time they hit the page. Why's that? When applying our testing methodology, we randomize what results they see.
We value our customers feedback tremendously, and a few of you pointed this out as being a sub-optimal experience. And we agree! Now, if your customer visits the Brightback Page more than once, the Offer presented in the first test sticks with them the next time, keeping your Offer accept rate performance data squeaky clean.
Experience Manager (BETA)
Brightback's new Experience Manager enables customers to create and manage their own cancel experiences, optimized through testing and targeting offers to different audiences. Manage branding, copy, and conduct your own testing experiments with offers and audiences.
Want to get in on the beta?
You might also like...