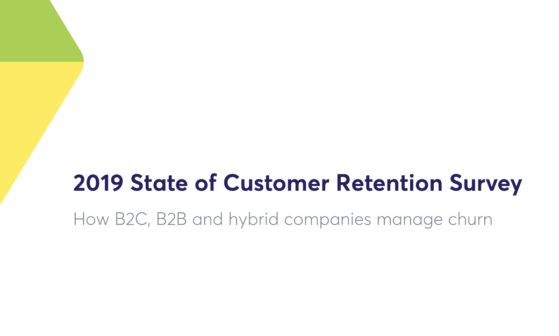 We published the results of our Customer Retention Survey. Download the report here.
B2C, B2B and hybrid companies do things differently. From marketing and pricing models to support and churn management, companies organize themselves around their customers. It makes sense: behaviors, preferences and buying cycles vary widely between individuals and businesses.
Where does this leave customer retention strategy?
We asked 300+ CEOs, founders and executives across 28 industries about their customer retention objectives, and what tactics they're using today and plan to use in the future.
One common thread among all companies: customer retention is a main focus. Ninety-seven percent of leaders say that retention is a top priority in 2019. But as expected, approaches differ. Here's a preview of the customer retention trends:
1. Companies prioritize customer retention differently based on business model
Where should companies focus their retention efforts? B2B and B2C companies have their own ideas.
B2B companies are focused mainly on educating customers to facilitate usage and onboarding new customers effectively. These priorities surface because their buyers generally represent a much greater revenue opportunity than individual consumers. The B2B customer lifecycle lasts months or even years, so there's more value in building a healthy customer relationship through high touch customer service.
For B2C and hybrid companies, the market is far broader, so these organizations are focused on improving customer satisfaction through better customer support. It's a reactive approach; B2C companies are least focused on customer education efforts.
2. Discounts and deals are the most popular retention tactic
At the tactical level, most companies are using special deals, bundles and discount offers to keep customers from leaving. The major difference in how B2B and B2C companies execute these kind of offers is timing. B2C companies are twice as likely to offer bundles or special deals preemptively to at-risk customers, while B2B companies are more than twice as likely to test a range of discount offers at the point of cancel.
But the state of customer retention is changing. We asked respondents to tell us about the initiatives they believe would have the greatest impact on customer retention. Their answers revealed a desire to move away from playing with pricing and experiment with new ways to reduce churn.
3. Leaders want a future of predictive customer retention models, but need to collect data first
All companies have an interest in developing predictive models to forecast customer propensity to churn or expand, but most organizations may or may not be prepared to perform outreach at scale based on predictive data.
B2B and hybrid companies are more focused on the first step. They're interested in ways to monitor and classify churn in order to understand why customers cancel. Whereas B2C companies want to double down on faster response times and better-trained customer support. The challenges arises as companies work to systematically gather churn insights and activate their teams to make improvements.
Get the full report: State of Customer Retention survey
We wanted to know more from our respondents beyond their attitudes toward retention initiatives and tactics. What tools are they using to manage their business and grow their customer base? What do their churn and growth rates look like?
Our research shows that retention B2C, B2B and hybrid subscription business leaders view retention as a top priority in 2019, but no single retention strategy is widely adopted across the subscription industry. Customers on the verge of cancellation are being served special deals and discounts, but this isn't enough to deliver growth most businesses need.
The full retention report includes monthly recurring revenue (MRR) churn rates and year over year revenue growth rates from our respondents. As well as the top CRM, e-commerce, billing and customer support systems across B2C, B2B and hybrid companies.
Check out all the findings by downloading the free report here.
You might also like...